Special Price

56.00 USD

Regular Price

70.00 USD

Special Price

36.00 USD

Regular Price

45.00 USD

Special Price

89.00 USD

Regular Price

740.00 USD
Special Price

56.00 USD

Regular Price

70.00 USD

Special Price

36.00 USD

Regular Price

45.00 USD

Special Price

89.00 USD

Regular Price

740.00 USD
History
Punch cigars have been delighting cigar lovers since the 1840s. Punch is the preeminent Cuban cigar brand, offering some of the finest Cuban cigars ever created.
This definitive guide introduces you to the brand, including the various cigars, productions, and history. Discover how the brand continues to be a favorite thanks to a combination of quality, value, and taste.

Punch Cigar Style
It is not by accident that Punch cigars continue to be celebrated after almost 200 years in production. The brand taps into everything most cigar lovers look for: a wide range of available sizes, great taste, and satisfying character, all at a good value. Punch cigars are equally at home in almost any setting, from the boardroom to the golf course and anywhere in between.
It begins with the tobacco cultivated in Cuba's Vuelta Abajo region. The soil and climate give the tobacco a distinct flavor and aroma found nowhere else in the world. This is why non-Cuban Punch cigars cannot match the character of a genuine Cuban-made Punch.
The brand's consistency in body and taste, along with its long history, has established Punch cigars as one of the most reliable landing spots for both veteran aficionados and new smokers alike. Other Cuban brands such as Cohiba, Partagas, and Montecristo receive more of the spotlight, but Punch cigars are fan favorites with something for all.

Punch Products
The Punch line-up features a collection of limited edition and classic everyday smokes in cigar sizes ideal for almost any occasion. The most popular of these deliver well-rounded smokes that are big in flavor and smooth in character.
Punch Double Coronas
A favorite after-dinner option, the Punch Double Coronas is a 7.6" x 49 giant that offers one of the most complex smokes in the Punch line. What starts as a medium-bodied smoke continues to evolve, with tantalizing cedar, coffee, bread, nutmeg, teak wood, and vanilla spice flavors flowing throughout.
The cigar builds towards a deeply complex medium-to-full-bodied finish with creamy milk chocolate notes being the dominant feature. The Double Coronas is perfect for those searching for a cigar that will fill a couple of hours with a harmonious blend of cigar flavors, strength, and body.
Punch Punch
The Punch Punch is a best-selling cigar that has something for all to enjoy. Its versatile 5.6" x 46 cigar size makes it a great smoke for almost any situation. The cigar is small enough for those on the go yet large enough to satisfy even the most discerning Robusto fans, with easy-flowing smoke jampacked with taste.
An elegant medium-bodied start delivers faint hints of baking spice and toast wrapped around a firm core of cedar and cocoa powder. The cigar moves into the medium-full range as notes of pepper, sweet cream, field grass, oak, and citrus emerge. Thick waves of milk chocolate help bring the smoke to a deeply complex and lively finish.
Punch Regions de Punch
While Punch cigars' popularity remains constant, the brand's limited production Punch Regios de Punch offerings are highly sought after by connoisseurs worldwide. The Punch Regions de Punch Edicion Limitada 2017 is a smaller 4.75 x 48 Robusto, aged two years before its release.
The intriguing dark brown wrapper leaf builds anticipation for what proves a thickly layered medium-bodied smoke. Pepper, oak, and chocolate notes are joined by splashes of vanilla cream, brown sugar, orange peel, red clay, and toast on the way to a bold finale. A great pairing partner for cocktails, especially a Manhattan or Old Fashioned.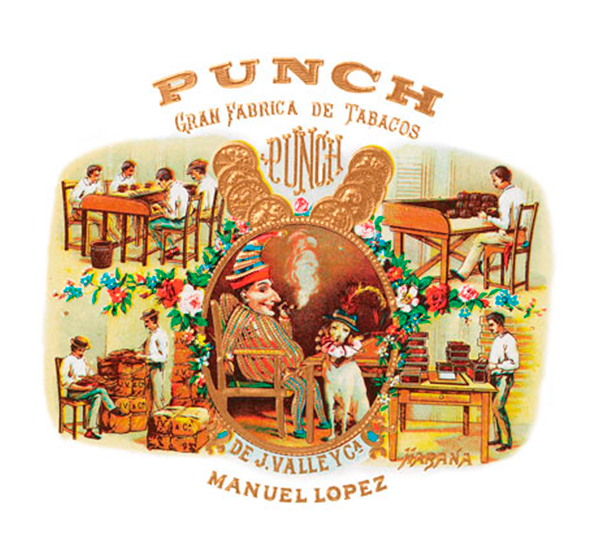 History of Punch Cigars
As Punch is one of the oldest Cuban brands in existence, much of its early history is shrouded in the smoke of a distant past. A German businessman, known only as Stockmann, is most often given credit for starting the brand, as the Punch name was registered in 1840 under his name.
The brand name was inspired by a puppet character named Mr. Punch, popular throughout Europe in the 19th Century. The character is still a familiar mascot for the Punch brand to this day. Yet, for Punch enthusiasts, the Punch story begins in earnest with Don Manuel Lopez Fernandez's purchase of the brand in the 1880s.
Punch in the 1880s
Lopez harnessed the popularity of both the Punch character and the booming cigar fad in England. Under his guidance, Punch cigars became an internationally recognized brand. Lopez's name is still found on each Punch cigar band as a testament to his legacy. Punch cigars became a favorite of everyday cigar lovers in England and throughout Europe. It is said that even one of the most famous cigar smokers of all time, Winston Churchill, enjoyed the occasional Punch cigar.
After Lopez passed on, the brand changed hands several times, until Punch was acquired in 1930 by Fernandez, Palicio y Cia. The company also owned the popular Hoyo de Monterrey brand and, together with Punch, increased its formidable position in the English cigar market, where the cigars continue to maintain their popularity.
Punch in the 1950s
The rise of Fidel Castro at the end of the 1950s brought great uncertainty to the Punch brand. The new regime nationalized the cigar industry and shut down many cigar operations. Luckily, Punch continued, but it spawned an entirely different Punch cigar.
Many of Cuba's great cigar makers fled Cuba to escape Castro's regime. And while cigar production often continued without them, they took with them cigar names. Meanwhile, the United States imposed a severe trade embargo on Cuba, restricting Cuban cigar sales in a lucrative American market. The Cuban exiles looked to create non-Cuban cigars for American cigar smokers or sell off the rights to the name, as was the case with Punch. Enter the Honduran-made Punch cigars.
In 1965 Villazon & Company purchased the rights to Punch outside of Cuba, eventually manufacturing cigars under the Punch name in Honduras by 1969. As some of the first cigars to be made in Honduras, these alternative Punch cigars could not match their Cuban counterparts' quality or elegance.
While the non-Cuban cigars remain popular in the US, the cigars are vastly different from the true Cuban Punch cigars connoisseurs have come to adore. Only authentic Cuban-made Punch cigars deliver a smooth and balanced smoke defined by the climate, soil, and tobacco that only Cuba offers.
Cigar Production Methods
The combination of climate, cultivation techniques, and craftsmanship are at the root of all great Cuban brands, and it is especially true of Punch. Each level of production lends a unique quality to every Punch cigar. It is incomparable to compare a Honduran Punch with a Cuban Punch, even if they share the same name.
Cuba's location makes for the ideal place to cultivate the unique tobacco used to create the classic Punch smoke. Western Cuba's fertile lands are situated between the Gulf of Mexico and the Caribbean Sea, where favorable climate combines with the rich soil of Pinar del Rio province for tobacco that offers richness, balance, and complexity.
Once the tobacco has been harvested and cured, it is sent to the famed La Corona cigar factory, also home to other brands, including Hoyo de Monterrey. Here cigar rollers with years of experience craft the Punch cigars for cigar enthusiasts around the world to enjoy.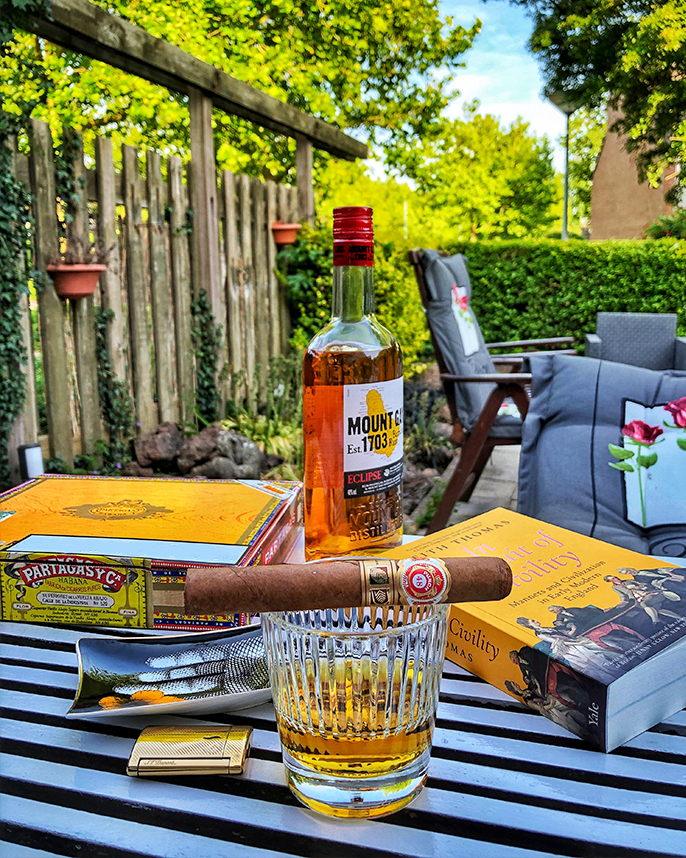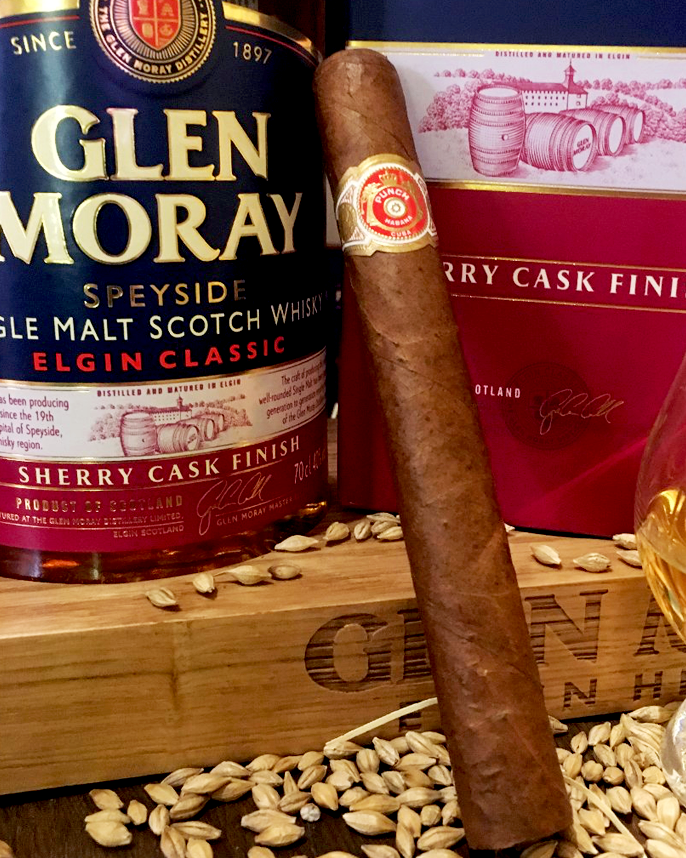 When to Smoke a Punch Cigar?
Punch cigars not only offer a great smoke, but they offer tremendous value. Since they are easier on the wallet than more expensive brands such as Cohiba or Montecristo, Punch cigars are a favorite go-to option for everyday cigar smokers.
Punch cigars are equally at home as a celebratory cigar. The smooth, balanced nature of their body and taste make Punch a great way to enjoy life's finer moments. The cigars also prove a fine match for rum, tequila, wine, port, sherry, and other spirits. They even make for tasty beer pairing cigars.
So, the question is not so much when to smoke a Punch as it is when not to smoke a Punch cigar. A classic Punch is ideal for any occasion, at any time or anywhere. Punch is simply one of Cuba's great all-around options with something for everyone to enjoy.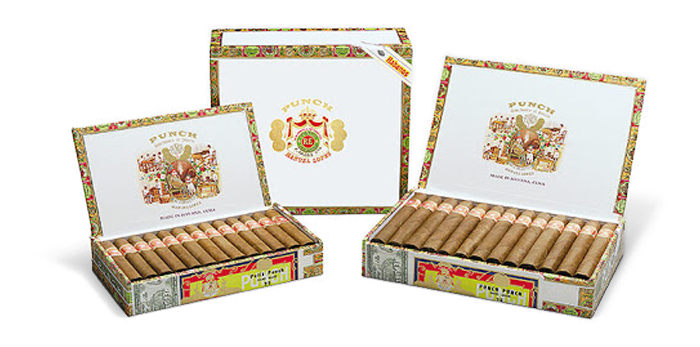 A Taste of Punch
As one of the oldest continuously made Cuban cigars, the Punch brand's resilience and continued popularity are a testament to the quality of Cuba's master cigar makers' tobacco and expertise. Discover what makes Punch the go-to choice and stock up at the best source for Cuban cigars online today.