Special Price

42.00 USD

Regular Price

52.00 USD

Special Price

94.00 USD

Regular Price

110.00 USD

Special Price

58.00 USD

Regular Price

73.00 USD

Special Price

307.00 USD

Regular Price

1,022.00 USD

Special Price

28.00 USD

Regular Price

35.00 USD

Special Price

19.00 USD

Regular Price

24.00 USD

Special Price

34.00 USD

Regular Price

43.00 USD

Special Price

26.00 USD

Regular Price

27.00 USD

Special Price

108.00 USD

Regular Price

905.00 USD

Special Price

41.00 USD

Regular Price

51.00 USD

Special Price

73.00 USD

Regular Price

97.00 USD

Special Price

640.00 USD

Regular Price

3,200.00 USD

Special Price

48.00 USD

Regular Price

60.00 USD
History
From famous cigar-smoking celebrities to a new generation of modern cigar lovers, Romeo y Julieta is one of the most beloved Cuban cigar brands. It is legendary.
With this complete guide you will learn the brand's style, history, production and popular line of products. So you can learn why these cigars are famous and easily find the right Romeo y Julieta cigar for you.

Romeo y Julieta Cigar Style
Romeo y Julieta cigars have ranked amongst Cuba's most popular cigars since the brand arrived on the scene in 1875. They have always delivered a mixture of lively tobacco, expert construction, balanced character and taste, making for a Cuban cigar smoking experience that continues to capture the imagination.
Tobaccos from the legendary Vuelta Abajo region in Cuba's Pinar del Rio give Romeo y Julieta cigars their distinctive body and taste. While cigars are made in the Dominican Republic and elsewhere under the Romeo y Julieta name, they cannot match an authentic Cuban Romeo y Julieta cigar's luxurious character.
Romeo y Julieta cigars are noteworthy for offering many intriguing nuances you may find deep within a cigar flavor wheel. Enthusiasts often discern hints of floral, roasted almonds, wild berry, coffee, milk chocolate, vanilla, cedar, oak, baking spice and many others.
Cigar strength hovers between medium and medium-to-full-bodied, making for a balanced and extremely approachable smoke ideal for most levels of taste or experience.

Romeo y Julieta Products
There are many Romeo y Julieta cigars to pick from, each providing a unique take on the Romeo y Julieta legend.
Romeo y Julieta Belicosos
Romeo y Julieta Belicosos are elegantly crafted 5.5" x 52 cigars featuring a tapered head. A connoisseur favorite, these highly rated treasures are great pairing options for aged rum.
Romeo y Julieta Capuletos EL 2016
Inspired by Bellini's operatic rendering of the Romeo and Juliet story, the Romeo y Julieta Capuletos Edicion Limitada is a unique 6" x 53 Sobresalientes size unveiled in 2016. Smooth and sophisticated with immense flavor, these cigars will only get better with age.
Romeo y Julieta Churchills
The most famous of all the brand's cigars, the 7" x 47 Romeo y Julieta Churchill, should be on every cigar lover's bucket list. Named for dedicated Romeo y Julieta admirer Winston Churchill, these cigars deliver a classic Cuban smoke that evolves with every flavor-packed puff.
Romeo y Julieta Petit Churchills
The Romeo y Julieta Petit Churchill packs an astonishing level of body and taste into its compact 4" x 50 frame. These popular cigars are perfect for those who are short on cigar smoking time who want the ability to enjoy a boldly complex smoke.
Romeo y Julieta Petit Coronas
Longtime bestsellers, the Romeo y Julieta Petit Coronas are 5.1" x 42 cigars that deliver impressive body and great value, regardless matter the occasion. This classic cigar is a Happy Hour legend that pairs with a broad spectrum of cocktails.
Romeo y Julieta Piramides Anejados
The Romeo y Julieta Piramides Anejados takes the Romeo y Julieta experience to a new level with a Piramide shape and additional five to eight years of cedar aging. The result is an exquisitely crafted 6.1" x 52 cigar with a deeper complexity and taste.
Romeo y Julieta Short Churchills
The 4.9" x 50 Romeo y Julieta Short Churchills were added to the line-up in 2006 to bring the popular Robusto size to the brand. An all-around favorite that pairs equally well with coffee, whisky, rum, and mixed drinks.
Romeo y Julieta Tacos LE 2018
Inspired by the 1970s-era Taco Imperiale, the Romeo y Julieta Tacos LE 2018 is a unique 6.6" x 49, which offers a balanced medium-bodied smoke at once sweet, salty, and smooth. The limited release cigar is a collector's favorite ideal for extended aging.
Romeo y Julieta Wide Churchills
A 2010 addition to the Romeo y Julieta Churchills line, the 5.1" x 55 Romeo y Julieta Wide Churchills is a crowd-favorite and provides great value. The large ring gauge helps to deliver a leisurely experience that is delectably sweet, nutty, and sophisticated.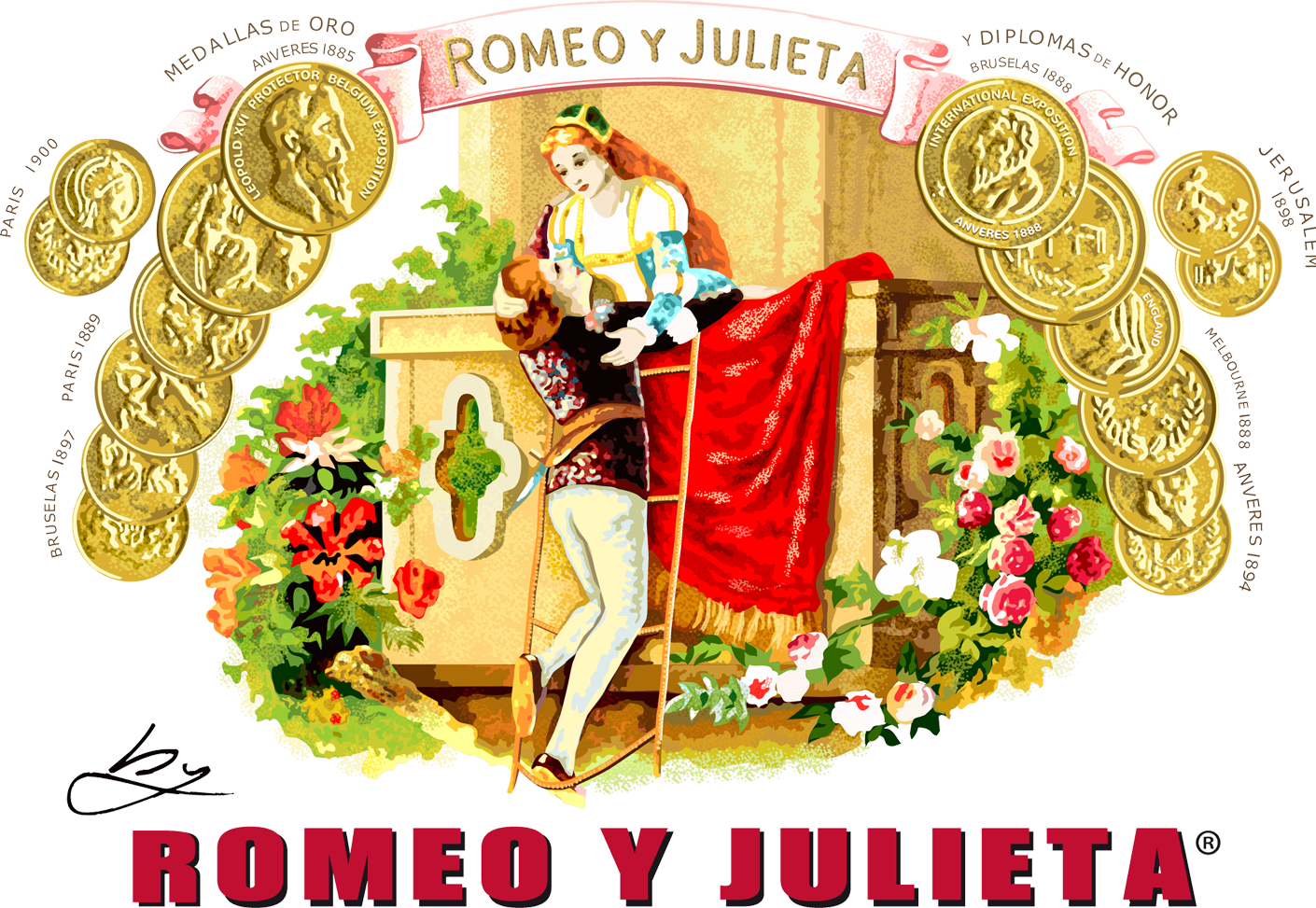 History of Romeo y Julieta
Much of Romeo y Julieta's storied past was about being in the right place at the right time. Yet, at its core is the story of the dedication of those entrusted with making the brand a success.
In the Beginning
The Romeo y Julieta brand was founded in 1875 by Inocencio Alvarez and Manin García. The pair worked in a cigar factory where a factory lector or reader would recite William Shakespeare's works. Romeo and Julieta was a favorite and inspired the name choice when the cigar-making duo finally created their new brand.
By the start of the 20th Century, the brand was a success and had a collection of gold medals won at world cigar exhibitions to prove it. These medals are memorialized on each Romeo y Julieta box and cigar band. In 1903, the brand would change ownership, and an exciting new era for Romeo y Julieta cigars was about to begin.
The Glory Years
Romeo y Julieta was acquired by a firm headed by Jose Rodriquez Fernandez, who had formerly helmed the Cabanas cigar factory in Havana. Ever the promoter, he journeyed throughout Europe and the Western Hemisphere to spread the word about Romeo y Julieta cigars. He even traveled the horse racing circuit with a racehorse named Julieta, gaining even more publicity for the brand.
As recognition for the brand grew, so did the brand's client list and requests for specialty cigar bands, which topped out at over 2000 different personalized bands. The brand was also known for an extensive line-up of Figurado cigar shapes, yet it would be one distinctive Parejo or straight-sided cigar that would become the calling card of Romeo y Julieta.
About a month before his famous "Iron Curtain" speech, Winston Churchill made his second trip to Cuba in 1946. The celebrated cigar aficionado was a fan of Romeo y Julieta cigars, so his preferred 7" x 47 cigar size was renamed in honor of his visit. The most famous cigar size of all-time, the Churchill, was born.
The Castro Years and Beyond
Romeo y Julieta's prestige and popularity were at their height at Jose Rodriquez Fernandez's passing in 1954. But the rise of Fidel Castro ushered in a challenging period for the brand and all Cuban cigar manufacturers. Castro's nationalization of Cuba's cigar industry ignited an exodus of Cuban cigar makers with their brands in tow to other countries.
Romeo y Julieta emerged in the Dominican Republic and became a popular cigar in the US, where trade embargos prohibited Cuban cigar sales. Yet authentic Cuban Romeo y Julieta cigars survived Castro's industry purge and retained their place as one of the world's great cigar brands, a title the brand wears proudly as ever.
Cigar Production Methods
Romeo y Julieta cigars have endured due to a consistency in quality tobacco and expert craftsmanship. It starts with the savory tobaccos from tobacco farms in Vuelta Abajo that blend age-old growing techniques with modern methods to ensure quality at every step of the process.
Unlike other iconic Cuban cigar brands, Romeo y Julieta cigars are not made at a single home factory, but many factories throughout Cuba. This allows cigar makers to ensure each of Romeo y Julieta's many sizes reaches the highest standards while keeping up with production demands. The original Romeo y Julieta factory is now the headquarters for H. Upmann cigars.
When to Smoke a Romeo y Julieta Cigar
Romeo y Julieta cigars deliver great taste, smooth body, and balanced cigar strength that come together to form a timeless experience for all to enjoy. Romeo y Julieta has a cigar for every occasion, no matter how casual or formal.
The versatile Romeo y Julieta brand is a wonderful option for everyday cigar aficionados. It is also a top pick for those looking to celebrate in style or break into the world of Cuban cigars for the first time. Enjoy with morning coffee, after dinner with fine brandy or simply whenever or wherever the mood strikes.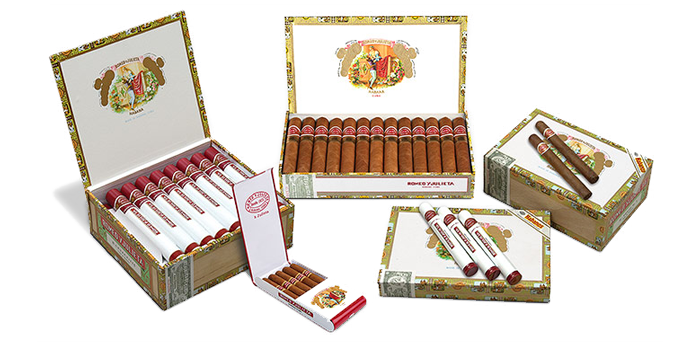 Fall in Love with Romeo y Julieta
Romeo y Julieta cigars have something to offer every cigar enthusiast, which is why they rank amongst Cuba's most beloved exports. Discover the world's love affair with Romeo y Julieta cigars for yourself and shop the best Cuban cigars online today.