Special Price

12.00 USD

Regular Price

29.00 USD

Special Price

12.00 USD

Regular Price

28.00 USD
Special Price

12.00 USD

Regular Price

29.00 USD

Special Price

12.00 USD

Regular Price

28.00 USD
History
The History of Don Pepin Garcia Cigars
Jose "Don Pepin" Garcia founded My Father Cigars in the Little Havana neighborhood of Miami in 2003. Born in Cuba, Don Peppin first began rolling cigars at age 11 and quickly flourished as an expert tobacconist. Years of hard work paid off and by 2009 My Father Cigars was officially opened in Nicaragua and Don Peppin was aptly recognized as "America's Hottest Cigar Maker" by Cigar Aficionado, the rest shall we say is history.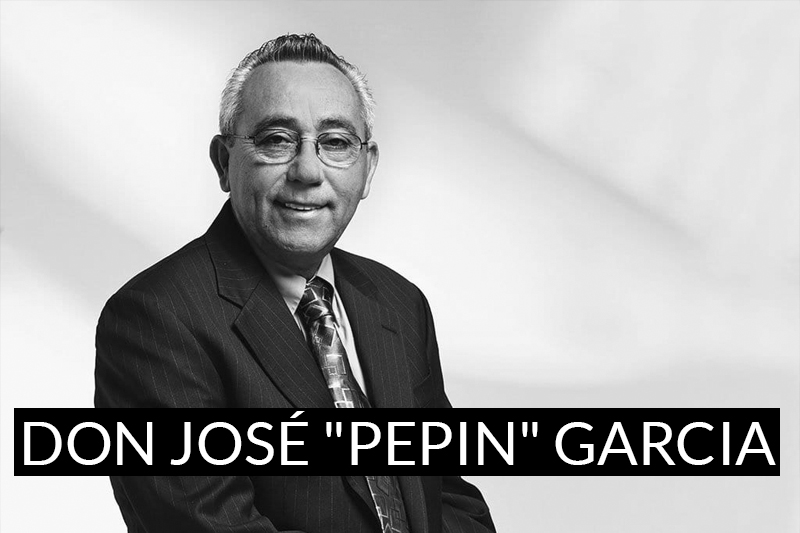 Don José "Pepin" Garcia started working with cigars when he was 11 years old. It began at his uncle's Félix Rodríguez export cigar factory in Baez, Cuba – the country known as the Mecca of cigarmaking. After spending 40 years as a torcedor ("cigar roller" in English), the Tabaquero Maestro ("master blender") has solidified himself as a magician of making cigars.
The Don Pepin Garcia line is the flagship cigar by My Father Cigars. Artfully crafted by Cuban-born Jose "Pepin" Garcia, the Don Pepin Garcia line has spun off into several unique lines of cigars, each as unique as they are flavorful. My Father cigars boast high-quality tobaccos sourced from their farms in Estli and Jalapa Nicaragua and delicately rolled at their family-run tabacalera in Miami. Well-regarded for its opulent flavors and rich smoking experience, Don Pepin Garcia is a cigar connoisseur's fantasy.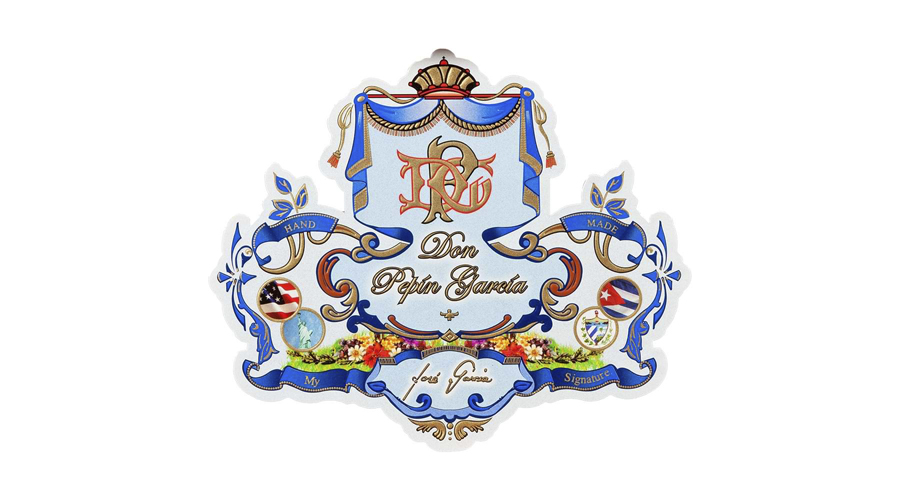 The My Father Cigars brand started it all. Now, the company is also the distributor for the smaller Don Pepin Garcia brand – which is made in a small factory in Doral, Florida ("Little Havana") near Miami, the city where it has been made since its inception in 2003. Throughout the Don Pepin Garcia lines, one may notice a common theme amongst many cigars containing Nicaraguan tobaccos through and through – from filler to binder. Many of these are wrapped in carefully grown leaves that come from Cuban seeds. A nod to the creator's roots.
That is why Cuban cigar lovers may enjoy the creamy smoke of Don Pepin Garcia cigars. The master blender himself has found that NIcaragua replicates the taste of Cuba the most, and even triple-caps the cigars in the same style as traditional Cuban cigars.
Enhance Your Don Pepin Garcia Smoking Experience
Heavily influenced by the Cuban masters, the Garcia has brought a vibrant bouquet of strength, nuanced flavors and un-matched rolling expertise to their core line. From the expertly aged Vegas Cubanas to the #10 ranked cigar of the year Original Blue label, the Don Pepin Garcia line has a cigar to match any occasion.

With his knowledge of working with Cuban namesake brands such as Cohiba, Partagas and Montecristo, Garcia traveled to Nicaragua and finally Miami, Florida to create his own cigar empire. Every aficionado is familiar with his brand My Father Cigars, a brand that has earned Cigar Aficionado's Cigar of the Year honor in 2015. In addition, the brand and all of its offshoots have been highly touted by smokers around the world.

The hearty flavors of Nicargaua come to life in a new light under the guiding hands of My Father's expert rollers with the line has much to offer for experienced smokers. The 92 point rated Cuban Classic is the embodiment of a Nicaraguan puro with a luscious Habano Rosado wrapper delivering a rich, woody and complex profile with a medium-full body to enhance any occasion. The Original blue line, a Nicaraguan puro adorned with a sun-kissed Corojo-Oscuro wrapper, offers a decadently sweet and smooth smoking experience. While the collection continues to grow, the family-inspired Series JJ rounds out the collection with an earthy rich balance of rich leather with a toasty and slightly peppery undertone. The Series JJ, named after Don Pepin's children Jaime and Jose, is yet another Nicaraguan puro, touting rich Esteli tobaccos encapsulated in a handsome Corojo Rosado wrapper.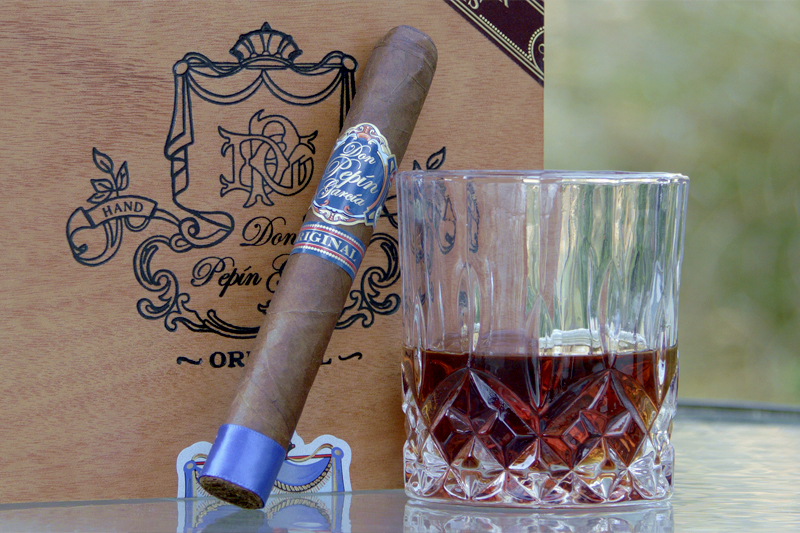 The natural full-bodiedness of Don Pepin Garcia cigars makes them a natural after-dinner aperitif or mid-afternoon treat. Perfect for reflecting after a long day, these high-quality cigars are nothing to sleep on. Don't let their complexities go unnoticed, the earthy, woody, and sweet tones will surely compliment a smooth porth wine or tame the wildness of an Islay Scotch.
Lines to look out for from Don Pepin Garcia include: Don Pepin Garcia Blue Label, Don Pepin Serie JJ, and Don Pepin Garcia Cuban Classic. If you want a small-batch cigar that is made in a factory of only about a dozen torcedors, which comes from one of the most revered rollers in the game, the Don Pepin Garcia brand is for you. For more cigars from Nicaragua and the United States of America, visit our online store.
Order Don Pepin Garcia Today!
If the temptation of bringing these legendary cigars home is too much, look no further than SwissCubanCigars.com. A proud purveyor of luxury cigars, Swiss Cuban Cigars will bring the richly exoctic flavors of Don Pepin Garcia to your doorstep.

Don Pepin Garcia Blue Edition Invictos
The Original. The Blue Label is the first of the Don Pepin Garcia brand, and the Invictos is the line's robusto. This darker cigar shines bright with blue bands, one which reads of the brand name, one which proudly states "Original" as we previously mentioned it was, and a nice velvet-blue band at the foot. It's as inviting and classy-looking as it is bold, and it has become a mainstay amongst aficionados that appreciate a bow to Cuban cigars – where owner and master blender Don Pepin Garcia began his life and career.
Invictos burns smoothly and evenly throughout its approximately hour-long smoke. At 5 inches long, the cigar starts out with a leathery, full-bodied taste and gets some chocolate notes as it burns through, which brings a pleasant sweetness with it. Although it has a full body, the smoke isn't too harsh and is packed with flavor. A delicious, balanced smoke.
A box of 24 Don Pepin Garcia Blue Edition Invictos will run you about $190 at a registered online store. At less than $8 per cigar, it's an incredible deal. These all-Nicaraguan robustos last a solid amount of time – good for a morning, afternoon or after-dinner smoke – and provide all the flavor you can ask for at under $10.
For someone who appreciates a solid Cuban smoke like myself, the Don Pepin Garcia Blue Edition Invictors is an excellent compromise. It's versatile in its 5 inch x 50 ring gauge vitola (its size), so you can bring it to smoke on the go, and its aroma is that of a leather-and-cedar-filled lounge. So you won't annoy the neighbors on a walk. All in all, the Invictos is a keeper, and one of the best in the Original line.
Don Pepin Garcia Blue Edition Generosos
Measuring a lean 6 inches by 50 ring gauge, the Don Pepin Garcia Blue Edition Generosos is any man (or woman's) cigar. Although it has a dark maduro wrapper evoking its strength, the reddish hue and neat triple cap make it inviting to any smoker – aficionado or not. Made up of all Nicaraguan tobacco from Cuban seed, this smoke is about as close as you can get to the legendary Cuban cigar in its price range. Plus, it's made by Cuban-born Don José "Pepin" Garcia from which the brand gets its name.
Generosos, or "generous" in English, stays true to its name. It has a powerful amount of flavor subdued by a pleasant creamy smoke. Pepper is on the palate, balanced by leather and wood, which is followed by a nice and sweet cocoa flavor. Altogether, the full-bodied, full-strength smoke is delicious. It pairs excellent with a smoky Scotch or an aged dark rum and doesn't overpower the palate or the head. It lasts just over an hour and is great to enjoy on the golf course or on the porch. If you're smoking more than one cigar, be sure to put this after any milder cigar.
A highly rated cigar made by a highly respected roller at a great price of about $200 per box of 24 (about $8 per smoke) – this toro is surely a winner. Its flavors balance each other out with spice and a mellow sweetness, and its power is leveled with an exceptionally creamy draw. Smokes that come out this factory in Little Havana, Florida rarely disappoint, and the Generosos of the "Original" line proves that point. It delivers.
When searching for an excellent maduro, it's often you may get one that is overpowering, strictly too spicy, or has a harsh draw that may be tough for some smokers to handle. However, the Generosos is none of those things. When I took this smoke out, cut its triple-seam cap and took a cold draw, i know it was a winner on a nice autumn afternoon with a cup of coffee. It warmed me up alongside the coffee and its modest strength had me feeling nice and alert. This is a smoke I would recommend to cigar lovers of any degree, especially at its price point.