Special Price

34.00 USD

Regular Price

40.00 USD
History
Many Cuban cigars are designed to be enjoyed with minimal aging. Not Juan Lopez cigars. These Cuban cigars are very different.
Juan Lopez is a small Cuban brand with nearly 150 years of history. It's a brand for the real connoisseurs, for people who appreciate how a cigar can improve with proper aging.
You may not know Juan Lopez but there's a lot to treasure, as this short guide explains.

Juan Lopez Cigars Style
Like many Cuban cigars, Juan Lopez cigars are medium to full-bodied, emanating rich and silky smoke. And like the more famous brands, Juan Lopez cigars are packed with tobacco from the Vuelta Abajo region, widely considered the best cigar tobacco growing region on the planet.
These cigars are thick and heavy on the palate with a genuine intensity of flavors. But what balance! Juan Lopez cigars are complex yet nuanced, with no notes strongly outweighing the others and a smooth smoking experience throughout.
Juan Lopez cigars are one of the few brands that exclusively produce hand-rolled cigars. They are made consistently and with remarkably few soft or irregular spots, without ever using a machine. This handmade nature helps makes each stogie a unique treasure to be savored.

Juan Lopez Products
While each Juan Lopez cigar is unique, our top pick is the Juan Lopez Seleccion No.2. Why? Simple - it's one of the best Robustos in the world. Measuring 4.9" with a 50 ring gauge, they're slightly shorter and thicker than the average Cuban cigar.
The Seleccion No. 2 starts out woody with cocoa and coffee notes but develops a creamy sweetness, highlighted by salted caramel and roast chestnut base notes. It begins as a medium-bodied stick and gradually increases in intensity, with flavor laying on flavor in the final third.
Some cigars end up too bitter and harsh during the end of the final third. However, the Seleccion No. 2 is pleasant throughout, especially if it's been properly aged.
History of Juan Lopez
The Juan Lopez cigar brand dates back to 1876, when production began at a factory on Calle de los Dragones in Havana. It changed hands several times, but maintained its roots in Havana. The brand was temporarily renamed Flor de Juan Lopez, but the original name came back soon after. It's still a very small brand with a single factory. And it's rare to find Juan Lopez cigars in traditional tobacco stores, instore or online.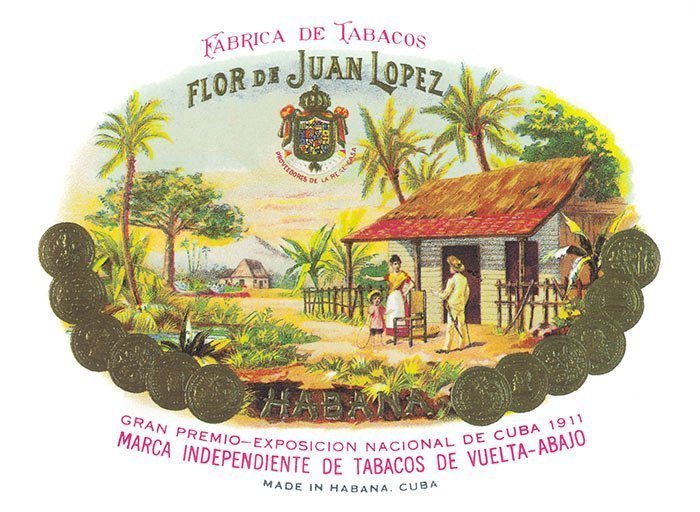 Cigar Production Methods
Cuban cigar regulations allow cigars to be labeled as hecho a mano, or "made by hand," even if machinery is used at some stages of production. However, Juan Lopez is one of the few brands to earn the distinction of totalmente a mano - "completely by hand."
Achieving consistency with this type of manufacturing is a challenge. However, Juan Lopez produces charmingly rustic-looking sticks that still offer a firm texture, consistent appearance, and even draw.
All Juan Lopez cigars are rolled using carefully selected long filler sourced from plantations in Vuelta Abajo. Expert torcedores painstakingly bunch, bind and wrap each individual cigar using traditional methods.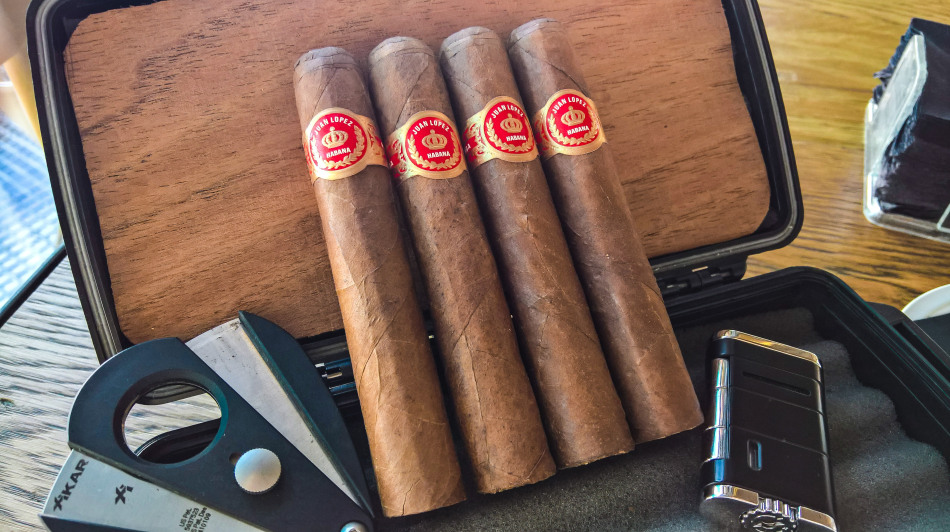 When to Smoke a Juan Lopez?
Juan Lopez cigars taste best when aged for 10-15 years. You need a good humidor for these babies, otherwise it's not worth the investment. They can offer a delectable variety of aromas before aging, their full range of flavors won't develop until they have spent some time in a humidor.
This aging ability makes them a true collector's item. They are powerful, memorable cigars. Yet their price tag does make them accessible beginner connoisseurs who can treasure a cigar upgrade at a reasonable price.
You need time to smoke a Juan Lopez cigar. Due to the lengthy aging process and the handmade brand's relative exclusivity, they are cigars best saved for special occasions. A fully-aged Juan Lopez also makes a thoughtful gift for serious cigar enthusiasts.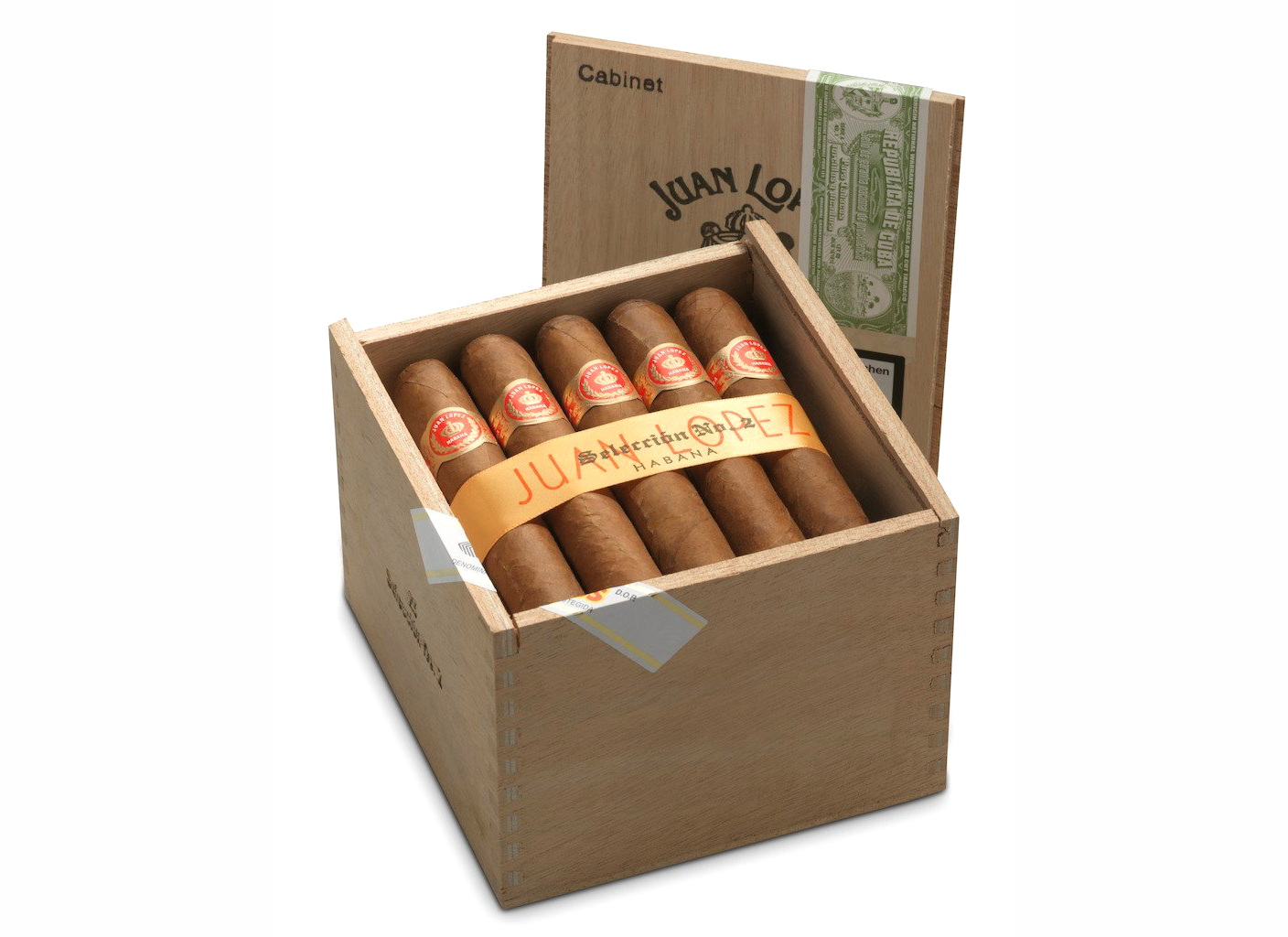 Get Authentic Juan Lopez Cigars Online

Swiss Cuban Cigars is dedicated to providing authentic Cuban cigars at the best prices possible. Explore our Juan Lopez cigar selection and add some to your collection as a truly memorable investment.