Special Price

24.00 USD

Regular Price

27.00 USD

Special Price

32.00 USD

Regular Price

36.00 USD

Special Price

24.00 USD

Regular Price

27.00 USD

Special Price

29.00 USD

Regular Price

33.00 USD

Special Price

41.00 USD

Regular Price

46.00 USD

Special Price

30.00 USD

Regular Price

37.00 USD

Special Price

30.00 USD

Regular Price

37.00 USD

Special Price

33.00 USD

Regular Price

39.00 USD

Special Price

31.00 USD

Regular Price

34.00 USD

Special Price

27.00 USD

Regular Price

30.00 USD

Special Price

40.00 USD

Regular Price

44.00 USD

Box of 8

Special Price

144.00 USD

Regular Price

220.00 USD

Box of 8

Special Price

144.00 USD

Regular Price

220.00 USD

Box of 8

Special Price

144.00 USD

Regular Price

220.00 USD

Box of 8

Special Price

144.00 USD

Regular Price

220.00 USD

Box of 8

Special Price

144.00 USD

Regular Price

220.00 USD

Box of 6

Special Price

144.00 USD

Regular Price

220.00 USD

Box of 30

Special Price

19.00 USD

Regular Price

25.00 USD

Box of 30

Special Price

19.00 USD

Regular Price

25.00 USD

Box of 30

Special Price

19.00 USD

Regular Price

25.00 USD
History
La Aurora has been a cigar lover's favorite since 1903, offering a broad spectrum of Dominican-made specialties beloved worldwide. From everyday offerings to legendary super-premium creations, La Aurora is a one-stop source for top-quality handmade cigars of the finest aged tobaccos.

La Aurora Cigar Style
La Aurora cigars range from mellow to full-bodied, with flavor profiles for all levels of taste and experience. Cigar lovers can expect balanced and refined smokes that impart a smooth character and entertaining finish.

La Aurora Products
There are many La Aurora cigar blends from which to choose, each offering a unique expression. From everyday smokes to luxurious limited production treasures, there is a La Aurora cigar to suit any mood or occasion.
La Aurora Preferidos 1903 Edition
Renowned for their smoothness and complexity, this collection features various barrel-aged wrapper options covering select long-filler blends. Offered in La Aurora's signature tubed Perfecto and traditional sizes such as a 5" x 50 Robusto.
La Aurora ADN Dominicano
ADN Dominicano, or "Dominican DNA," is a line of cigars dedicated to La Aurora's deeply seeded Dominican roots. A boldly textured and complex smoke.
La Aurora 115th Anniversary
This collection of cigars was created to honor the brand's 115th year. Rich, full-flavored, and intensely flavorful smokes ideal for demanding palates.
La Aurora 107
Created to honor La Aurora's 107th year, this collection features highly rated smokes noted for their evolving character. Available in Ecuadorian, Nicaraguan, or USA-grown wrappers.
La Aurora Connecticut 1987
A line of classically smooth and mellow smokes celebrating the first year that La Aurora cigars featured Connecticut wrappers.
La Aurora Fernando Leon
These refined cigars are part of La Aurora's Family Reserve series and celebrate the Leon family's legacy as owners of La Aurora.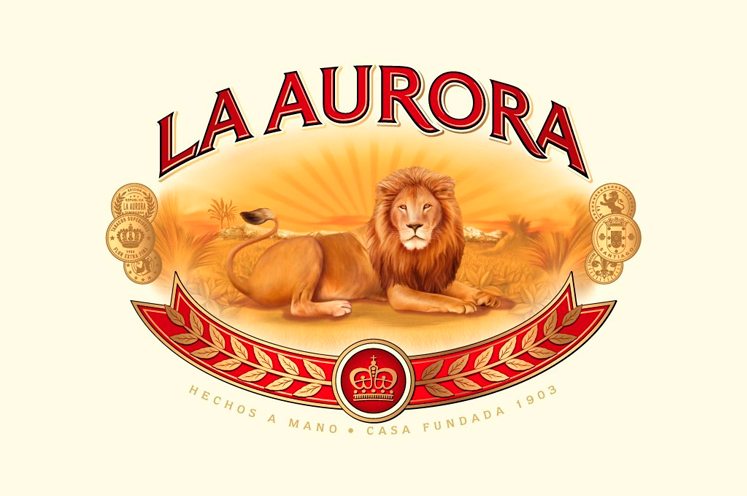 History of La Aurora Cigars
La Aurora was launched in 1903 by founder Eduardo León Jimenes in the Santiago de los Caballeros province, which began a long line of Leon family members to head the company. Throughout the years, La Aurora cigars earned renown for their quality and distinctive Perfecto shape. Today La Aurora represents the Dominican Republic as one of its oldest, largest, and most diverse cigar companies.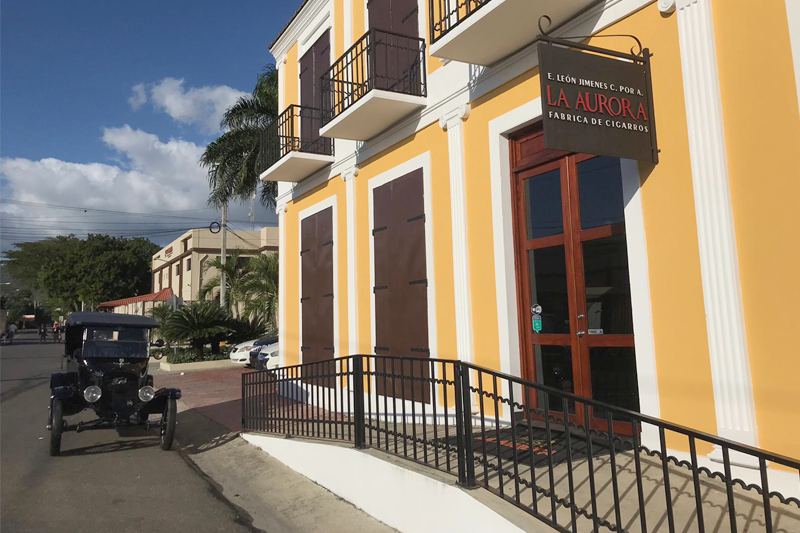 When to Smoke a La Aurora Cigar?
La Aurora cigars are to be enjoyed anytime. Such favorites as the Connecticut 1987 are perfect for morning enjoyment, and the 115th Anniversary is an ideal after-dinner option.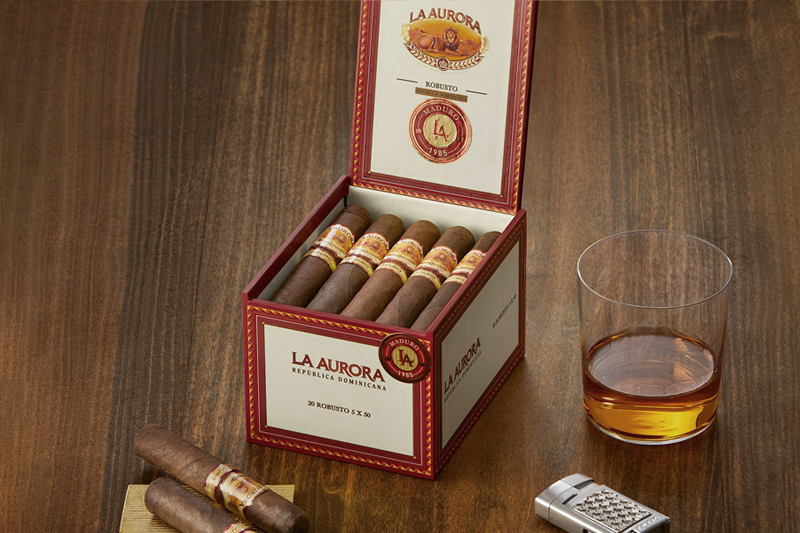 The La Aurora Tradition
La Aurora cigars have been at the center of the Dominican cigar industry innovation for over one hundred years. All of that history and tradition are woven into each cigar. So, savor the La Aurora experience and shop online for your favorite La Aurora cigars today.