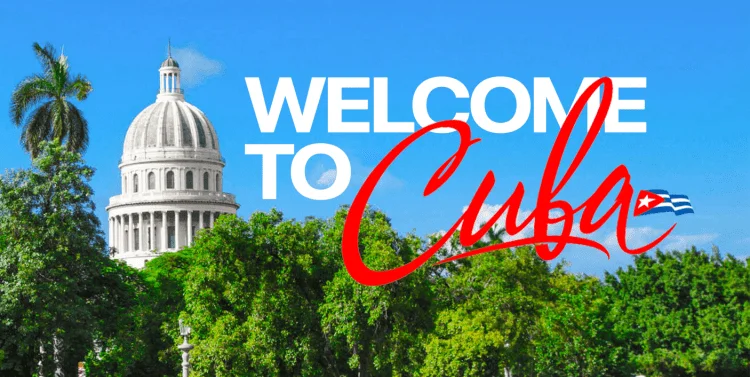 After decades of isolation and restriction, Cuba holds an allure for travelers like no other place on earth. With a warm, sunny climate, stunning scenery, and a rich cultural and political heritage, Cuba is a destination that travelers simply must visit. So, if you're wondering: can you travel to Cuba? The good news is that most countries have significantly eased their travel restrictions in recent years.
As of June 2019, there have been limits put in place for tourists traveling with a United States passport which only allow you to fly into the capital, Havana. There are also a few other bans in place dictating how and where you can spend your money in Cuba, however, this shouldn't prevent you from exploring this breathtaking island and taking in the local culture. Here is everything you need to know about traveling to Cuba now.
Can you travel to Cuba now?
Yes, Cuba is very much open to visitors, including Americans. You can travel independently by obtaining a tourist card in advance, and declaring your visit under Support for the Cuban People category. You'll need pre-booked flights in and out of the country, along with valid travel insurance. It sounds complicated, but it's very straightforward and this article will show you how. 
Cuba suspended all international flights until August 1st, due to the coronavirus pandemic. But there is no indication that rules or entry requirements for tourists will change significantly. Cuba really wants visitors! They encourage you to stroll the streets of Havana, discover the food and culture, and puff on a locally made cigar. And you're going to love the music!
The process of obtaining a visa is a little bureaucratic. It's easiest to pay a third-party agent to arrange your tourist card. A tourist card is just like a visa and it costs $50. Paying an extra $40 to an agent is well worth it for the time you save. Don't let the idea of visas and paperwork get in the way of your Cuba travel plans.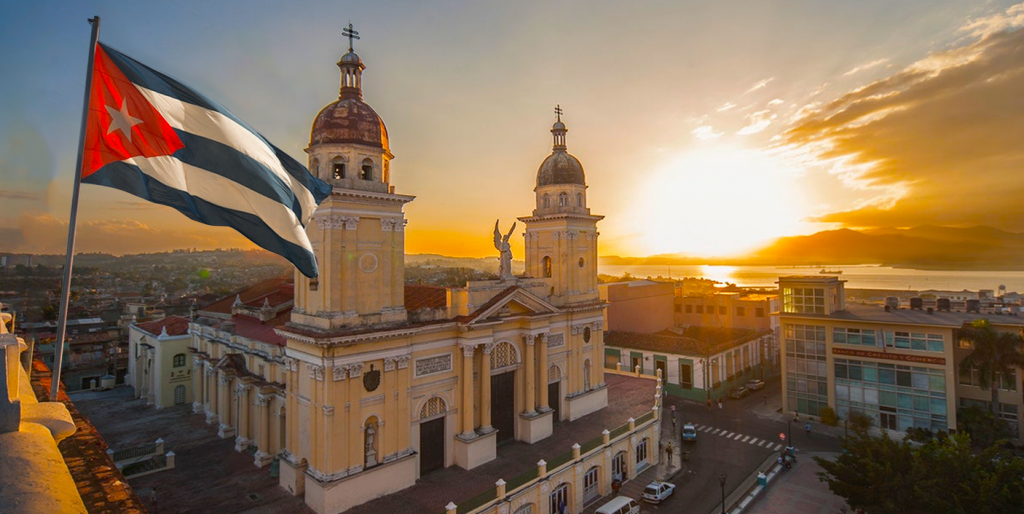 Have you always been able to travel to Cuba?
In the past, various Western countries have restricted travel to Cuba in order to impose sanctions on the country. President Barack Obama re-established diplomatic relations with Cuba in December 2014, but there are still trade and travel restrictions for tourists with a U.S. passport.
The United States' restrictions made it especially difficult for visitors from Europe and Australia to visit Cuba, and since flights from the U.S. are still limited, international visitors may find it more convenient to transit via Mexico or elsewhere in Latin America. However, with some careful research and planning, you can travel to Cuba with no problems.
Get a Visa Under Support for the Cuban People Category
Read this next bit carefully because the terminology can become confusing. The Cuban government requires all visitors to have a tourist card. This is independent of a US government requirement that requires all American citizens, and passengers transiting to Cuba via the States, to declare their reason for travel. 
The US government is really twitchy about Cuba. They're paranoid about visitors being Communist anarchists planning to train rebel groups that will reignite the Cold War. That's not you of course, so you must tell the US government the reason for your travels, to prove you're not a danger to the US by visiting Cuba. 
There are 11 different categories. Before July 2019 most international visitors declared their trip to be in the People to People category. But in 2019 the Trump administration banned this kind of travel. Now you should declare your travel under the Support for the Cuban People category. 
When in Cuba, this category means that you must avoid spending money at any business associated with Cuban military Grupo de Administración Empresarial (GAESA), but you can still enjoy cultural experiences such as staying at casa particulares and eating in paladares. 
How to get a tourist card?
You will need to already have a plane ticket booked in order to get a Cuban visa, also known as a Cuban Tourist Card. If you are traveling through the U.S. to reach Cuba, you will also need proof of your itinerary details, including planned activities and where you will be staying.
Once you have this paperwork in hand, you can contact the Cuban Embassy in your country to begin the visa process. The embassy will give you a paper visa that must be kept inside your passport at all times. Visitors traveling via the U.S. will receive a pink visa, regardless of national origin, while visitors traveling via other countries will receive a green visa.
Most tourists can obtain a Cuban Tourist Card via an authorized third-party reseller or even through your airline without ever contacting the embassy directly. However, if you are traveling for business, school, or family purposes, you will need to contact the Cuban Embassy in your country for full visa application information.
There is conflicting information out there about how long your passport must be valid for when entering Cuba. As long as your passport has at least one month's validity remaining after your expected date of departure you will be allowed to enter Cuba.
However, some airlines and cruise lines require your passport to be valid for at least six months after the expected date of departure in order to disembark in Cuba, even though Cuban officials do not enforce this rule. You may want to double-check with your cruise line company beforehand if your passport is nearing its expiration.
Cuba vacation guide
Although the 30-day restriction on visas can be waived in some circumstances, visitors must still have proof of a return ticket upon arrival. Tourists should plan to stay no more than 30 days, and book their hotels and activities accordingly. Since the internet is slow and access is limited in Cuba, try to do all of your research and reservations in advance.
Since Cuba accepts international drivers' licenses, visitors can rent a car and explore for the duration of their visit. However, Cuba also has extensive intercity buses and buses that serve the region outside of Havana. Most tourists end up taking public transit, especially if they aren't exploring outside of Havana.
Smartphone GPS systems usually work in Cuba, but you may need to check with your cell service provider about coverage availability and international data fees. Standard GPS systems are subject to import restrictions, and GPS units that are designed for use in Latin America and the U.S. generally will not have the data required to function properly in Cuba anyway.
Places to visit in Cuba
Old Havana is one of the most beautiful areas of the city, and its gorgeous buildings make for incredible photos. Check out La Meridiana, an old Pedro Murias cigar factory that is now a beautiful old residential building. The Catedral de San Cristóbal is the most famous of the 11 cathedrals on the island,and can be found at the Plaza de la Catedral in Old Havana .
Varadero is a beach town on the Hicacos Peninsula that is just two hours away from Havana by car. There are caves, beaches, resorts, and much more for tourists to enjoy, and most destinations are reachable by intercity bus. The Reserva Ecológica Varahicacos is a fantastic nature preserve near the tip of the peninsula that has ancient caves containing pictographs.
Viñales is home to some of the best tobacco on the island, and the town's culture largely revolves around the industry. Montecristo cigars and several other popular brands have their tobacco grown here. This is the best place for authentic nightlife and relaxation, especially if you love Cuban cigars. 
Vuelta Abajo is also home to excellent tobacco, and a source of tobacco for Cohiba cigars and most other Habanos cigars. It is a beautiful region with welcoming residents where you can take a tour of the plantation or explore the scenery on horseback or wander hiking trails.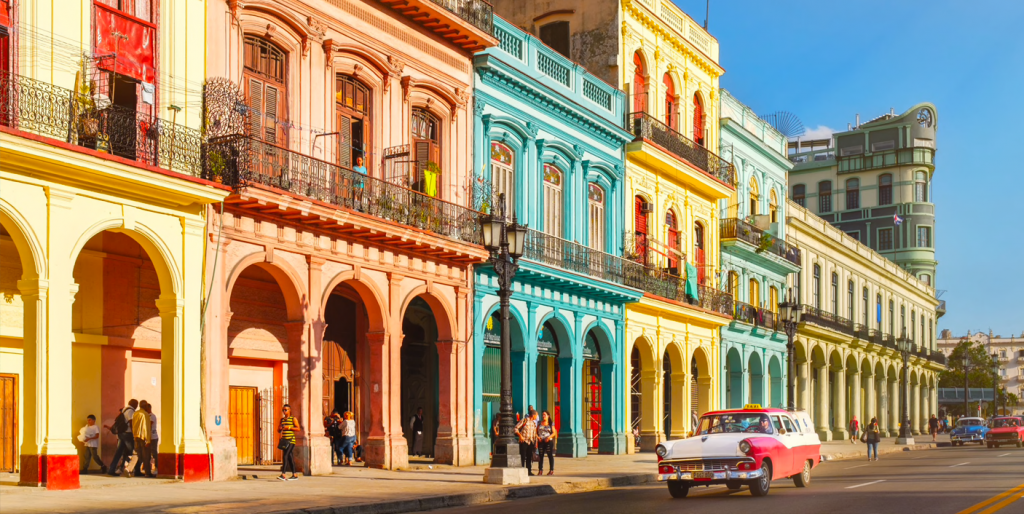 Things to do in Cuba
The best activities in Cuba take advantage of the warm weather and ocean access to give a tropical experience. You can travel to Cuba any time of year, but the average temperature in the winter is only about 70 degrees, making it harder to swim. Travel in the summer if you want to snorkel, scuba, or swim on the beautiful beaches.
Cuban food is also delicious, especially if you enjoy staples like rice and beans. Make sure to try a variety of Cuban rums during your stay, and visit the Havana Club distillery in either Santa Cruz del Norte or San José. Even if you're traveling to or via the U.S., you can take some home with you, as long as you pay close attention to quantity restrictions.
Cuban cigars are also a big part of the experience. Even if you've never smoked a cigar before, take the opportunity to enjoy a rare and highly sought-after authentic Cuban cigar. These cigars contain rich flavors that are unlike anything else in the world, and their taste and aroma are entirely derived from the unique growing condition on the island and the skill of the cigar rollers, torcedores.
Is Cuba safe?
Cuba is a very safe country thanks to its high standard of living and effective social services. Economic and violent crimes are both low, and it's safe for tourists to mingle with locals in a wide variety of spaces.
Pickpockets are more common on buses, so take care when using public transit. Using hidden backpack pockets and other security features reduces your risk. Driving is very safe overall, but renting a classic American car and driver is a worthwhile and unforgettable way to explore the country and support the local economy.
To make your travels even safer, stay close to your hotel or accommodations after dark and avoid walking alone. Ask hotel staff or your host for recommendations of safe nearby establishments, taxi drivers, and other essentials.
Smoking Cuban cigars in Cuba
Although Viñales is Cuba's biggest tobacco town, you can enjoy Cuban cigars anywhere in the country. Havana sometimes sells out of the most popular brands during peak tourist season in the summer, so make sure to buy them quickly if there's a particular brand you want. You might also have better luck buying them in smaller towns around the island.
Most restaurants and bars allow smoking, so you can enjoy your Cuban cigars just about anywhere. Try one after enjoying a meal, while cruising Havana in a classic car, or while watching a sunset on the beach. If you make friends with locals, someone might even offer you a cigar to enjoy.
Final thoughts
Cuba is a beautiful country to explore, even in the winter months. Whether you enjoy nightlife, cigars, or beaches, you will find something unique to enjoy among Cuba's friendly and welcoming residents.
If you can't make it to Cuba just yet, you can at least enjoy a bit of Cuba from home. Buying genuine Cuban cigars gives you a glimpse of all that this wonderful country has to offer. At Swiss Cuban Cigars, we carry world-class Cuban cigars and can ship anywhere in the world. Let us show you the stunning range of flavors Cuba has to offer.