A new trend- matching cigars with food
The cigars can be matched with anything and this had been proved by many people. Not only drinks can be a perfect pair of cigars, but foods, too. So, we cannot tell you whit what to pair a cigar or what you should do when you taste a cuban cigar, but at least we can offer you some tips that will help you to enjoy more the flavors of a cigar.
Today, it had become a trend amid people to pair the cigars with food. Lately, lots of people are trying the perfect matches when it comes to food, drinks and cigars. As a fact, in France there are tests that imply cigars, food and drinks. Surprisingly or not, almost all the tests that were made were successful, and by successful I mean that this combination was a spectacular one.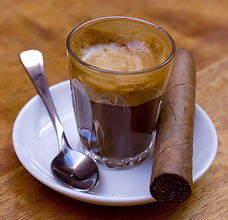 Now, the combination of cigars and alcohol has a long history behind. However, the combination of all three elements is something new, still tested. So, let's put the next question. If a cigar goes perfectly with a drink, why should we not try some food, too? However, when making such a combination we must be extremely careful what we are choosing as drink, cigar and food as we don't want to destroy everything thats some need to know about a cuban cigar. The tests proved that the drinks are making known the flavors from a cigar and the foods are intensifying those flavors.
So, the biggest dilemma is when a person should start smoking? He can start smoking before the meal, during the meal or after it? There are different suggestions for this dilemma. Some people say that the perfect moment is before the meal, while some are saying that after the meal. Now, this will depend on you, of how "hungry" you are after a cigar,tabacco leaves they have influence in this decision.
Yet, there is another issue that worth to be discussed in this article, respectively what foods can be matched with cigars and alcohol?
So, each meal starts with an aperitif. For it you can try a mild and short cigar. This is because during aperitifs you will be served with light drinks that cannot be matched with strong and long cigars. The cigars should not hold longer than a half of hour.
Digesting the food with the help of a cigar might be a bit more difficult than you think as the digestive cigars like cohiba are a bit difficult to choose. However, there you have some tips for drinks. You can pair a cigar with a digestive drink as whisky, rum, cognac and so on. For these drinks go perfectly the medium sized cigars, with a medium strength.
Also, the medium sized and long cigars are a perfect match with fish and meat. If the fish is grilled you will have part of the finest experience from your life.
Now, it remains the most important part of the meal: the dessert. For it you can make the most spectacular combination that must consist from: coffee, cognac, chocolate and cigar. You will love it.