Habanos S.A. announced at the 15th Habanos Festival the release of a new Cuban cigar, precisely Montecristo Double Edmundo. In the last years, Montecristo brand had not made any releases, but this year it had a couple of them. However, let's see more things about this new release Double Edmundo some people says that Cuban cigars are more expensive than other cigars but is because are the best.
These cigars have a spectacular look. They are measuring only 155 mm in length and have a ring gauge of 50. The things that will be noticed right from the start consists from the black and oily wrapper and the interesting and mysterious black band on which is imprinted the name of the brand and of the cigar. The wrapper is smoothly, extremely pleasant at the touch and it is releasing a superb aroma of matured tobacco.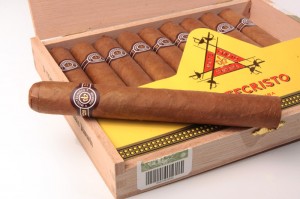 The cigar is extremely easy to cut and to light. You will undoubtedly enjoy it because The process of tobacco leaves drying, especially the flavors that can be found in the first third of it. You will discover significant quantities of flavors as excellent tobacco, peanuts, wood and creamy. The end of the first part if smoked slowly will reveal to you some tasty notes of cherry. The first part of the cigar is an excellent one and you must enjoy it very slowly in order to feel the best flavors of these cigars.
The second third of these cigars is a bit medium as strength. However, you will also have part of diverse and tasty flavors. As well as in the first part you will feel woody flavors alongside creaminess. Everything is perfect at these cigars. It will not overheat; you will have part of a lot of aromatic smoke that will be your partner during the entire smoke and so on. Also, when you have some time make sure that you check the construction of the cigar. More than probably, the finest torcedors of Havana had struggled to hand- made these cigars. They are beautifully rolled, without defects some men hate the winter season when it comes to smoke Cuban cigars.
The last third of Montecristo Double Edmundo, the newest release from Havana, is an exceptional one. The final of the cigar is filled with beautiful flavors that more than probably will enchant your palate.
Montecristo Double Edmundo cigars are exceptional pieces that must be tried, no matter what. However, there is a small thing that stays between these cigars and the happiness of Cuban cigars smokers. These cigars are not very affordable as price, and lots of people complained about this thing. Such a vitola can be bought at a price of $40. It is quite expensive but you can matching cigars with food and enjoy. Another thing that must be considered at these cigars is that they should be left to age a while, and many think that the age time should be more than a couple of years.
In rest, these cigars can be found on the international market in boxes of 10 and 25 pieces. Those who participated at the Habanos festival got the chance to buy these cigars in packs of three pieces. Well, this is all about the newest release of Habano SA, Montecristo Double Edmundo.