Cigar smoking may seem very simple. You just light it up and from there on you just enjoy the amazing taste. But in reality, it is not that simple. Cigars require certain steps in order to make sure that you are smoking the best cigar, in the best conditions and using the best technique. We listed some of the basic steps on how to prepare the cigar for smoking in order to make sure that you have a smooth and delicious smoking experience.
1. Choosing the right cigar
Even though it may not seem like a preparation step by itself, getting the right cigar is crucial for the smoking experience. It is well-known that a true cigar lover should have a humidor at home in order to preserve the cigars in the best possible conditions. As a pro tip, it is advised to invest from the start in a medium-capacity humidor in order to stack all your delights. For example, if you choose to buy a box of 25 Cohiba Genios Maduro it would be a shame to not be able to stack all of them.
Make sure that the cigar has an even surface and that it is not too crisp or too soft to the touch. There are many tips and tricks on how to choose the best Cuban cigar and it is not a very difficult process.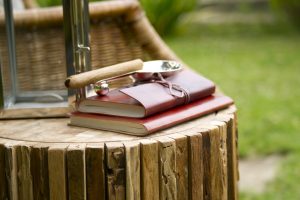 2. Cutting the cigar
There are many scenes in movies in which the cigar is cut with a plain knife or even bitten in order to remove the tip. These are all no-nos in terms of a proper cigar experience. There are many techniques for cigar cutting but the best option is to buy a cigar cutter that has two blades. This way, even a beginner smoker can make sure that the cigar is evenly cut. Cigar cutters will usually give you a clean surface that will provide an even draw and a perfect smoke temperature. This type of cut should be done at approximately 2 mm from the tip. In order to get oriented easier, the cutting point is where the straight surface of the cigar starts to curve to the tip.
Other smokers prefer a V-shaped cut in order to get a fuller aroma. While this cut is interesting, it can result in very hot smoke that can sometimes change the taste of the cigar and in a shorter smoking time.
3. Lighting the cigar
This specific step of cigar preparation is the one that sparks the most debate. Traditionally, the cigar was lighted up using matches. Lately, more and more connoisseurs argue that the sulfur in the matches alters the taste of the cigar. This is indeed a fact and you should generally avoid methods of lighting that alter the taste. If you still want to use matches, you should opt for the long ones and wait until the sulfur is consumed before lighting the cigar up. Another option is to go for sulfur-free matches in order to better preserve the taste.
Flame lighters are nowadays preferred by many smokers because they can provide an even burn without altering the taste. Single-flame lighters are perfect for smaller gauge cigars like Cohiba Siglo II  but if you are a fan of thicker cigars you should opt for a double-flame lighter in order to make sure that the whole end is lighted evenly.
4. To re-light or not to re-light
 Even though it is not necessarily a part of the preparation it is a subject of great debate in the cigar world. There are many experts that state that after the cigar is out there is no point in lighting it again because the taste will be different. Some other veterans of the cigar world recommend cutting the ashy end of the cigar before lighting it again. Yes, it will still be a difference in taste because we all know that the cigars feature changes in taste as they are smoked but at least you will not have to throw away a good cigar just because you got too intense in a conversation and forgot to draw from the cigar.