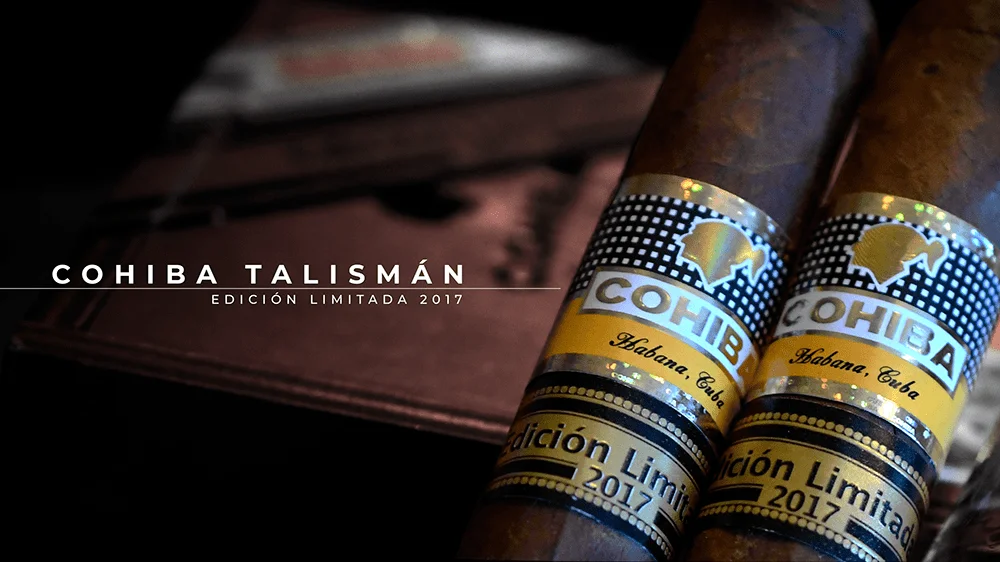 The Cohiba Talisman is a Cuban cigar legend of mythic proportions. Launched just a few years ago, the Cohiba Talisman Edicion Limitada 2017 is the seventh Cohiba to wear the Edicion Limitada band. It has proven to be the most sought-after Edicion Limitada cigar to date. 
Cohiba Talisman Edicion Limitada 2017 Overview
The Edicion Limitada program emerged in 2000 to showcase exceptional tobaccos in one-off limited production cigars, released under only a few select brands each year. All tobaccos destined for the series must be aged a minimum of two years, ensuring a fully developed, connoisseur-worthy smoke. 
The Cohiba Talisman Edicion Limitada 2017 is worthy of being the new torchbearer for the most prestigious line in the cigar world today. Whether it matches the hype or is worth the asking price is perhaps best left to each cigar enthusiast to decide. This is an expensive cigar and it can initially be hard to taste beyond its fame.  
There is no question that the Talisman takes its rightful place amongst the best of Cuba's most recent releases and, after a little more aging, as arguably one of the best Cohiba cigars of all-time.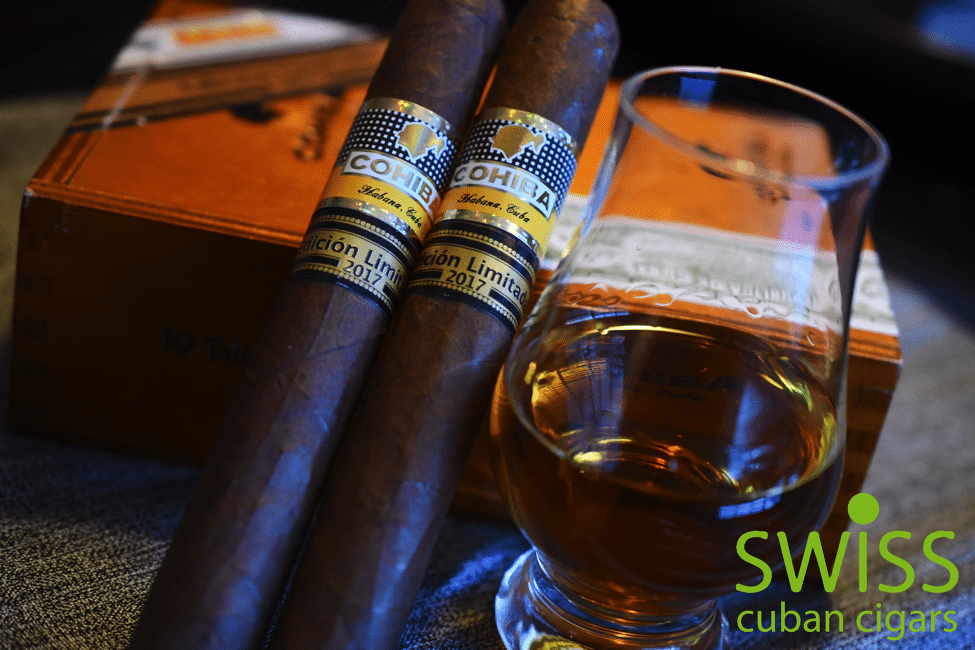 Smoking a Cohiba Talisman Edicion Limitada 2017
Appearance and Construction
As announced by Cigar Journal, the Talisman arrived in Switzerland following the official UK launch in slide-top boxes of ten cigars. Each is a 154mm x 54 or Canonazo Doble size, a first-of-its-kind for the brand. The wrapper is dark and oily, crowned by a short pigtail. 
The cigar has a more substantial weight than any other Cohiba cigar. The familiar Cohiba cigar band is joined by a secondary "Edicion Limitada 2017" band, completing what looks every bit the part of an exclusive limited-edition cigar.
The construction seems solid and consistent from head to foot, as would be expected from such a high-profile release from Havana's famed El Laguito factory. The well-aged Cuban tobaccos under the upper priming shade-grown wrapper offer up hints of leather, cocoa and wood aromas. 
A carefully placed snip of the guillotine unveils a firm, yet free-flowing draw with teasing pre-light tastes to match the aroma, as well as hints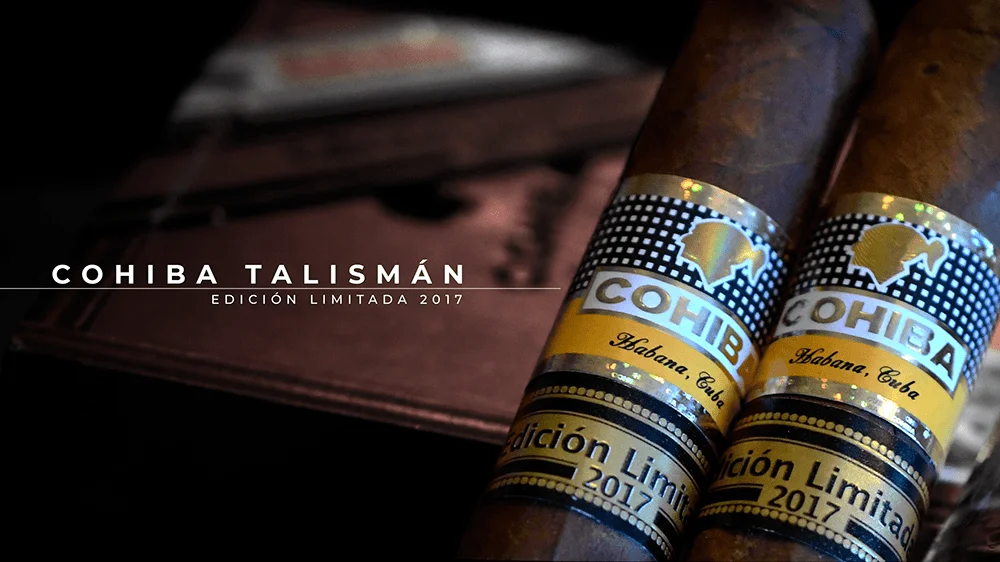 of honey-roasted nuts and exotic spice.
First Third, Burn and Draw
The Talisman takes a bit more effort to light than others in Cuba's 2017 collection, due perhaps to the densely packed filler blend. But the extra time is well worth it as it explodes with flavor right from the get-go. 
The Talisman wastes little time in building into the medium-plus range, unleashing thick notes of wood, cocoa and spice. A hint of cream is detectable as splashes of leather and coffee hide in the background. 
The draw is good, if somewhat tight, making for a slightly laborsome effort to propel the cigar smoking experience. This seems but only a minor inconvenience at this point, as the onslaught of body and taste is simply too prominent to ignore. 
The burn is even with tightly woven ash exuding tremendous amounts of smoke. While perhaps a bit inconsistent, it is still a classic Cohiba to this point. 
As renowned wine and cigar critic James Suckling offers, "I am a little surprised by the rough construction of this large pigtail cigar. But limitadas can have rustic wrappers like this one due to the upper priming used. This wrapper dominated as expected lending the cigar espresso, tobacco, nut and wet earth character with every puff. Full body, layered and soft textured with a flavorful finish. Shows the Cohiba character halfway through the cigar."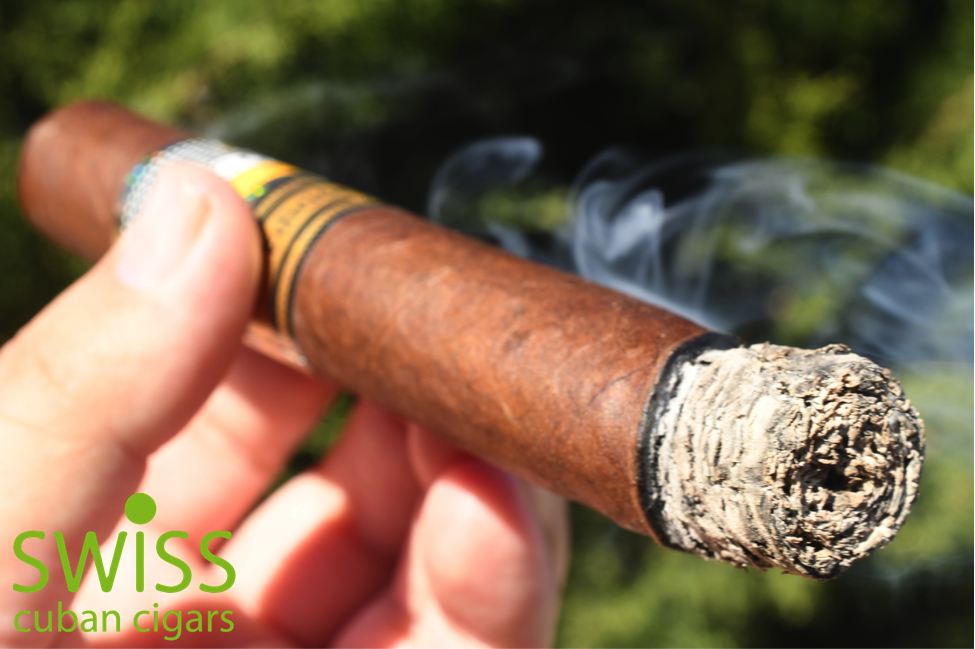 Second Third, Taste and Flavor
Bursts of cinnamon and almond flavors join in the mix as you continue to smoke, as the coffee and leather notes from the first third become more prominent. Strength continues to grow into the medium-to-full bodied range, while subtle anise, cardamom and dried fruit nuances appear. 
While still as enjoyable as the first third, this portion of the smoke brings more flavors to the experience that are working independently rather than complementing one another. Aromas have taken on a distinctly more earthy tone with hints of coffee and wood wafting through the thick clouds of smoke emanating from the beefy cigar.
Brooks Whittington of Half Wheel singled out this lack of balance in his initial review of the Talisman, stating, "There is no doubt that there is significant room for improvement: the profile is enjoyable but not overly complex, the construction has both burn and draw issues, and the balance leaves quite a bit to be desired, especially when it comes to the almost shocking strength that is present."
Final Third – Complexity and Balance
Cocoa, spice, almond, earth, and cedar become the dominant flavors in the final third, while splashes of coffee, sweet cream, citrus, and leather drift into a supporting role. These flavors have happily slid into lockstep with each other to create a delightfully complex character that should only grow deeper with extra aging. 
The draw has not flowered open quite as much as some smokers may prefer, but maintains a steady course even after the removal of the primary and secondary cigar bands. 
The final third is sublime. The richness and texture of the Cohiba Talisman have hit capacity as most of the flavors have given way to a sweet and sour earthiness mixed with a chocolaty essence. The result is a lively push towards a robust finish. 
The ash clings to what has become a somewhat erratic draw and burn as the full-flavored smoke picks up hints of mesquite at the crescendo of the robustly satisfying grand finale.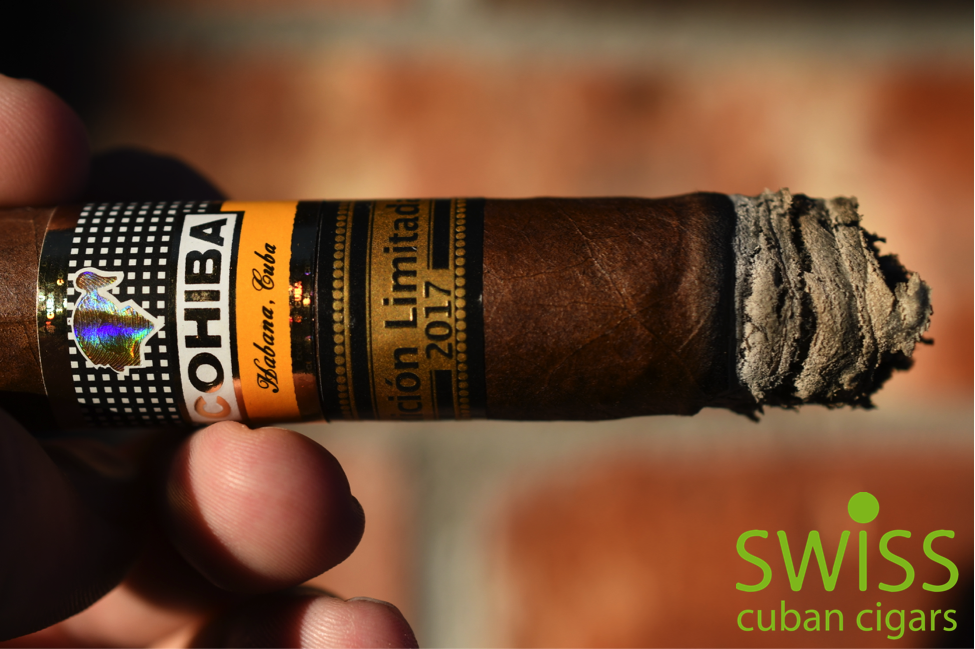 Additional Aging Will Be Beneficial
Additional aging might bring greater harmony, yet the individual flavors form just enough of a cohesive unit to register as a positive experience for the taste buds. Even with this slight issue, the smoke is at this juncture still equal to Cuba's other top offerings and is holding interest with each puff. 
The Cohiba Talisman does not disappoint, delivering a smooth and flavorful experience. While it can feel that the cigar is restricted from truly spreading its wings by construction issues and lack of cohesion at times, it is still a delightful smoke. 
Further aging, however, will perhaps nudge the Talisman closer to the exceedingly high expectations that preceded its release and prove it a masterful pairing choice to the extremely rare Cohiba Cognac, which G. Clay Whittaker points out, "mingles with the smoke of a cigar in transformative ways."
Cohiba Talisman Edicion Limitada 2017 Value
Anyone enamored with the Cohiba Behike and Siglo lines will want to make the Talisman Edicion Limitada a priority, yet with the expectation that the Talisman is an entirely different experience. 
While opinions on the value about the Talisman differ significantly across the full spectrum of cigar aficionados, critics and industry experts, there is no denying the cigar has the makings of something extraordinary. 
Luca Cominelli of Cigars Lover Magazine might offer the best summation of the cigar: "Overall, the Cohiba Talisman releases a refined and powerful smoke. One of the best limited editions ever."
And while connoisseurs and critics debate whether it was worth it (yup, this is one pricy cigar), there is no denying that this is a cigar that you really have to try. Something so unique and revered should be tried, at least once.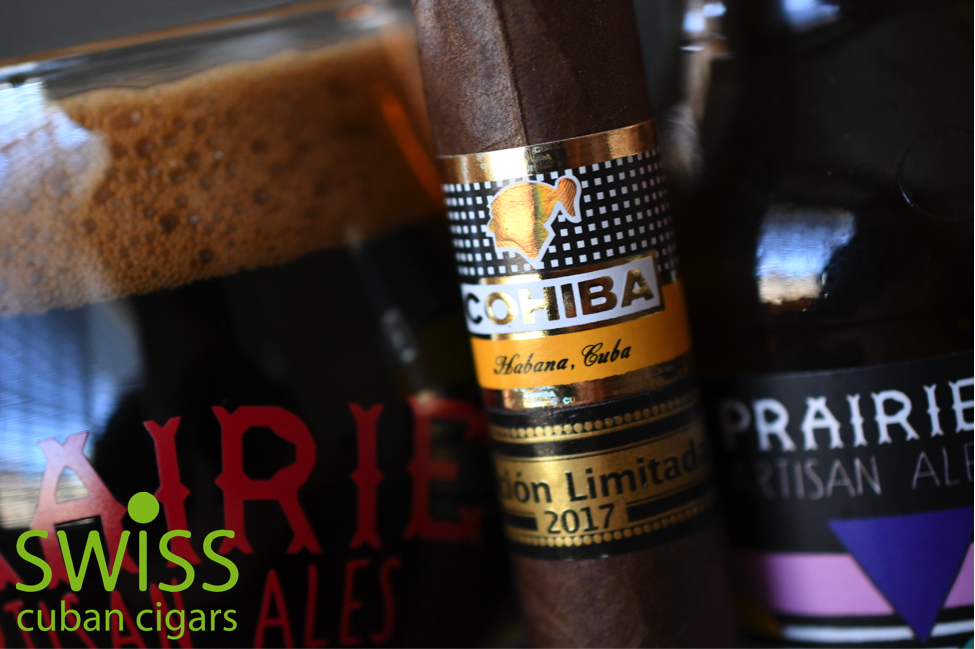 Buy a Cohiba Talisman Edicion Limitada 2017 
This cigar will improve with age, as it offers more balance and harmony. It's also remembering that this is a limited edition and the cigar will not be repeated. So it's only going to increase in price over the coming years as well. 
It's currently at a price point that is within range for most cigar lovers and such a famous limited edition also makes for a great gift. Buy it now, while it is still available.