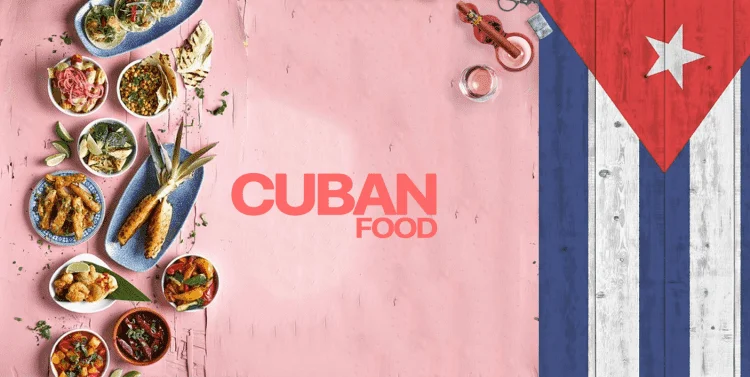 Cuban food is all about big flavors and enticing aromas. Its gastronomy evokes vibrant island culture and all that's exotic about the Caribbean.  
Cuba has a cuisine best experienced on the island, where indigenous products and time-honoured recipes still rule. Yet you can cook and sample your own Cuban food, especially some of the famous Cuban dishes. 
This article explores the heart of Cuban food and many of the iconic flavours you can sample, on or off the island. 
An Introduction of Cuban Food
Cuban food is a savory blend of cultural cooking styles and ingredients that come together for a rich cuisine. You'll find Spanish, African, Taino, and Caribbean influences in traditional Cuban food. 
In general, Cuban food is not spicy but achieves an intense depth of flavor by heavily seasoning the ingredients. Meats are often marinated and slow-cooked for a succulent pull apart dishes that can be shared with the family. 
Famous Cuban Dishes
These famous Cuban foods are a great starting point for everyone new to the island's cuisine.. They represent the best of the genre and are well-loved in Cuban restaurants for a reason.
Arroz con pollo
Arroz con pollo translates to 'chicken and rice' and is the staple comfort food for many Cubans. The abundant flavor of this dish comes from the spices used when cooking the rice and fatty chicken thighs in a single pot with broth, olive oil, and tomato paste.
Oregano, cumin, black pepper, salt, garlic, and onion will fill your home with the flavorful aroma of Arroz con pollo which is often served alongside another well-loved rice dish called Congri. Congri is a mix of rice and black beans which uses many of the same spices as Arroz con pollo.  Both dishes can be used as staples for any occassion.
Ropa vieja 
This classic Cuban dish translates to 'old clothes' and is one of the national dishes of Cuba. Braised flank steak is slow-cooked in a savory marinade that includes tomatoes, pimentos, onions, and peppers, and then shredded to create this authentic dish. Olives and capers add a surprising kick and round out a wonderfully balanced flavor profileh. 
This tender concoction is traditionally followed by a Cuban cigar. The Cohiba Siglo I is a wonderful choice to match with ropa vieja; the peppery aroma melts into a rich caramel for an appealing after-dinner experience. 
Picadillo 
Picadillo is another versatile dish that you'll see represented throughout Cuban style food. It consists of ground beef browned in olive oil and mixed in with tomato sauce, olives, raisins, and spices, including the sazon seasoning.
You can find picadillo served over rice or used as a filling for tacos and empanadas. It's another crowd-pleaser that is easy to prepare in large batches. 
Medianoche 
While you've probably heard of Cuban sandwiches, you might be surprised to learn that this beloved lunch dish actually originated in Tampa, Florida. Medianoche, translating to 'midnight' is a true Cuban sandwich often eaten for lunch or a late-night snack. 
Medianoche consists of roast pork, ham, swiss cheese, pickles, and mustard between sweet egg bread, similar in texture to brioche. 
Lechon
The quintessential Cuban celebratory food is Lechon, or roast suckling pig. The entire pig is roasted over a spit fire and frequently rotated to ensure the skin is evenly crisped. The pig is marinated with mojo, which is also brushed over the skin of the pig as it roasts. 
This staple holiday feast meal is often the centerpiece of the table. Pan con lechon is a sandwich made with the leftover roast pig. 
Cuban Spices 
Traditional Cuban spices are what lend the rich and complex flavors to the dishes. These spices aren't hot but have a great impact on the marinades and seasoning of Cubandishes. Cuban chefs also flavor their dishes using popular sauces.
The most common spices used in Cuban dishes are oregano, cumin, garlic, onion, parsley, salt, and pepper. Keep these spices close on hand when you are preparing your own Cuban dish.
Mojo is a signature sauce that adds a great flavor to many traditional Cuban meals. There are different variations of mojo, but it is primarily based on olive oil and contains citrus juice, peppers, garlic, paprika, cumin, or coriander along with other spices. 
Cuban sofrito sauce is a collection of ingredients often used as a base for Cuban dishes. Onions, garlic, and bell peppers are minced and cooked with tomatoes, dry white wine, oregano, bay leaf, and cilantro for an aromatic base that adds depth and flavor to any dish.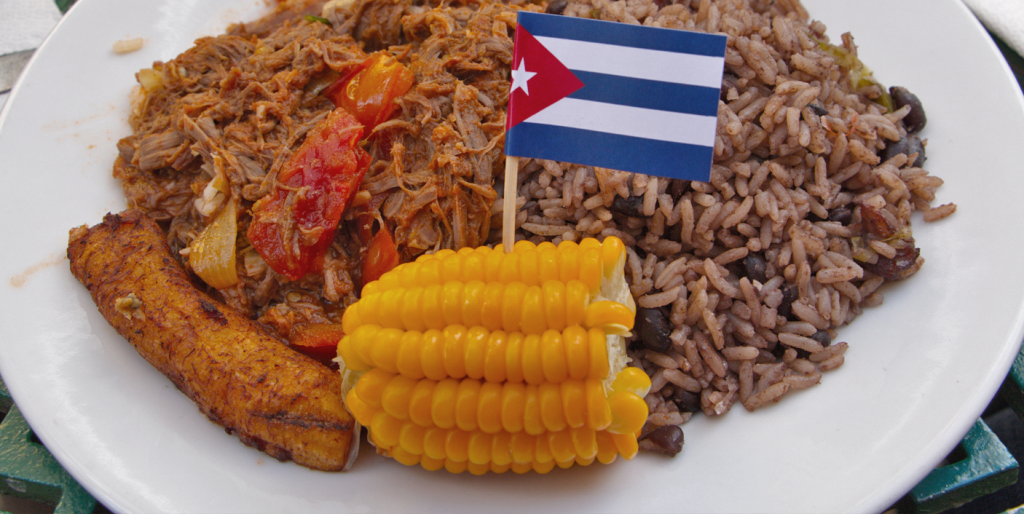 Cuban Desserts
Cuban cuisine boasts some awesome sweet treats to round off a savory meal. Dessert is traditionally paired with a light-bodied Cuban cigar. This finishes off the night as the sweetness of the creamy dishes complements the spicy, nutty and vanilla aromas of the cigar. 
Flan
The Cuban version of the common Latin American desert is much creamier and richer than its counterparts. Cubans bake flan with condensed milk rather than fresh milk, and this desert forms a decadent caramelized crust. 
This sweet dish is the perfect companion for a classic Cuban cigar, especially the Bolivar Coronas Gigantes. This cigar has a nice woody, chocolate aroma, and a consistent draw. 
Arroz con leche
The Cuban rice pudding is made with condensed milk for a sweet and creamy dish that's often scented with lime peel, vanilla, or cinnamon. 
Cafe Cubano 
Cuban coffee is often served after dinner as well as for breakfast or as an afternoon pick-me-up. Cuban coffee is known for being especially strong and can be drunk straight or with sugar and steamed milk. 
Pastelitos 
Cuban pastelitos are puff pastries with sweet or savory fillings like guava or cream cheese. These treats are often eaten for breakfast or sweet snacks.
Cuban Snacks
If you can't get enough of Cuban cuisine in main meals, try some of these highly snackable Cuban options. You can also include these options as appetizers, side dishes, or entrees of their own in a Cuban-themed lunch or dinner.
Croqueta 
Croquetas are a fun Cuban snack and breakfast food with Spanish origins. They are fritters filled with ham, chicken, or salt cod mixed with garlic and onions. The dough outside is deep-fried for savory snacking.  
Yuca chips
Yuca is the starchy, potato-like root of the cassava plant. It's often served soft-cooked with mojo sauce as a side to a traditional Cuban meal and is also eaten in chip and fry form for a snack.
For added Cuban flare, try yuca fries with herbed salt or mojo mayonnaise on the side. 
Cuban tamales
Cuban tamales are rich with a subtle flavor. Marinated pork is enveloped in cornmeal and then wrapped in corn husks before being steamed or baked. 
The filling of Cuban tamales is often cooked with wine and some of the traditional Cuban spices like cumin and paprika making a deep and complex, instead of spicy, flavor.
Chicharrones 
'Pork Cracklings,' or pork rinds, are some of the most well-loved snacks in Cuban cuisine. They are deep-fried and seasoned with salt and garlic for an irresistible snack.
These tangy, crispy rinds are so highly demanded in Cuba that they're subject to rationing. 
Finish a Cuban Meal With a Cuban Cigar
A Cuban meal isn't complete without a cigar. Cuba makes the best cigars through years of experience of growing high-quality tobacco and hand-rolling cigars.
These products are so highly sought after that you'll have to be wary of counterfeits. urn to a reputable Cuban cigar supplier outside of Cuba, like Swiss Cuban Cigars. 
Although the US embargo on Cuban products has been lifted to allow you to bring Cuban cigars from the island, you are limited to a small amount for personal consumption only. If you want a regular supply of authentic Cuban cigars, it is best to buy them online.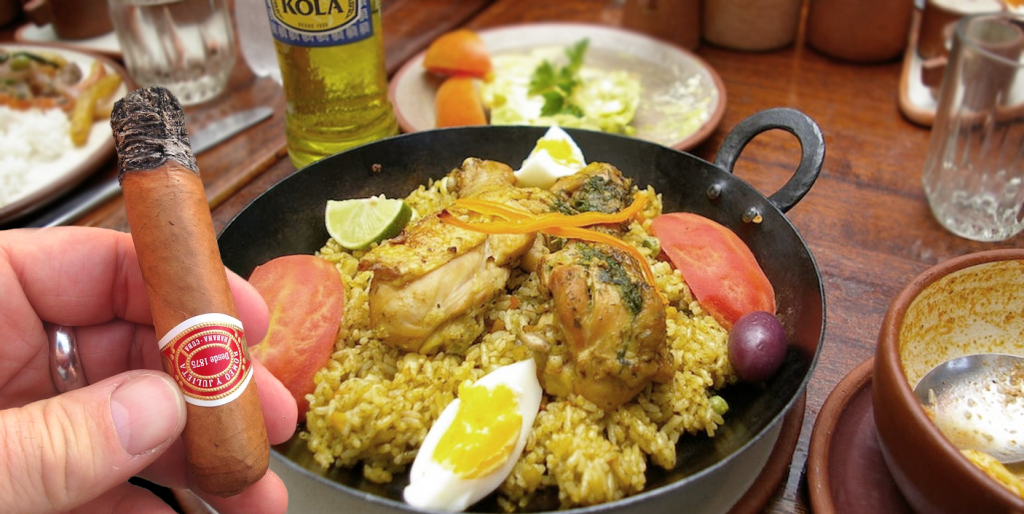 Pairing Cuban Food and Cigars
Cuban food makes use of simple ingredients to create dishes that pack a lot of flavor. Cuban cigars use a similar philosophy, relying on quality tobacco grown in unique conditions and hand-rolled by professionals to give you a product that is flavorful enough to enjoy as a complement to a meal or alone. 
Visit Swiss Cuban Cigars high-quality authentic Cuban cigars, and enjoy experimenting with different flavors to find the perfect match for your favorite Cuban meals.