Best Places To Enjoy A Cuban Cigar
Cuban Cigars are wonderful things. They can be a great way to relax, to unwind after a long day. Many people don't realize that Cuban Cigars can't just be smoked anywhere, or at any time. The place and time needs to be right. Oddly enough, this can help you enjoy the cigar even more, when you decide to have it at the right place.
So, what are the best places to enjoy a cigar? Turns out, there are several!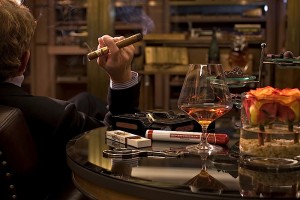 1. Your home : This is the obvious choice because you can make sure that you are not disturbed while smoking your cigar, and you know you will not be disturbing anyone else. The problem is that smoking a cigar can be something you do in a social setting but today, it is very hard to find a place that you can smoke it among others due to the many anti-smoking laws in place.
2. Gentleman's Club: Depending where you live, you may have the option of sitting back in a nice chair, smoking a cigar and socializing with the other members of the club. Of course, if you aren't a member of a club, you don't have this option.
3. In the great outdoors: This is a great place to enjoy a cigar, but you have to make sure you are not near anyone else when you are smoking. There are laws in place in many parks to prevent smoking, so make sure you know your area laws.
It is important to find restaurants that allow you to smoke. The vast majority will not allow you to smoke inside the restaurant but there are restaurants that you can smoke on the deck at. There are smoker's decks, where everyone is allowed to smoke. Some restaurants actually specialize in providing an atmosphere for you to smoke in. These are cigar store lounges, but they can be hard to find. Some hotel bars still allow you to smoke as well.
A great place to socialize while smoking is the home of a friend. If they smoke, and you smoke, the two of you can sit on the deck, in a den, or anywhere else you won't disturb anyone, and enjoy the puff of a cigar.
In answering where the best places to enjoy a Cuban cigar are, there are several considerations:
1. Can you smoke with others? Cigar smoking alone is sometimes boring, it is all about socializing. Find a group to smoke with and you will find you enjoy it that much more.
2. Are you disturbing anyone else? You enjoying the habano is important, but not if it comes at the cost of someone else enjoying their time outside the home. Make sure your habano is not ruining someone else's evening.
3. Are you comfortable? This is the biggest one. Smoking a good Cuban cigar is about relaxing, feeling good, and you can't do that if you are walking in the hot sun, or sitting on an uncomfortable chair. You are supposed to be leaning back, relaxing, savouring the wonderful taste of a cigar.