Wine and cigars can form the ultimate love story in terms of taste if you know how to properly combine them. Many people believe that the ultimate drinks for cigars are spirits but wine is a great choice. There are many types of cigars and wines out there and this is why combining them can sometimes prove difficult. There are some basic principles to follow in order to have the ultimate taste experience:
1. Red wine and cigars
Red wine is definitely one of the most popular out there. In terms of serving, all the experts advise that red wine is best served at room temperature. Being a very aromatic wine, the best choices for this particular type are medium, or medium to full-bodied cigars like Vegas Robaina Unicos. These cigars will complement the bitter undertone of the red wine and they will form a beautiful pair.
Being served at room temperature and due to its taste, red wine can dehydrate your palate. Some connoisseurs advise that you have a glass of room-temperature water with you while smoking in order to keep hydrated.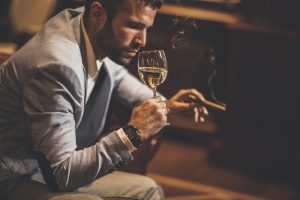 2. Rose wine and cigars
Rose wine combines the traits of both white and red wine while having a very unique and distinctive aroma. This wine can be combined with a multitude of cigars and the best option are medium-bodied ones like Cohiba Coronas Especiales.
The rose wine can be served both chilled or at room temperature, depending on your taste. This wine is very versatile and it can work even with spicy cigars thanks to the multitude of base notes that it features.
3. White wine and cigars
White wine is the finest and most delicate of them all. It has a very crisp taste and very tasty notes. This wine is best paired with light or light to medium-bodied cigars in order to balance the aromas. This way the taste of both the wine and the cigar will not be overlapping and you will be able to fully enjoy both of them.
In terms of serving, white wine is usually served chilled. But in order to make sure that you don't dilute the aroma, the wine should not be chilled by using ice cubes. The wine can be kept in the fridge or there are special cooling devices that can be used in order to keep the wine at an ideal temperature.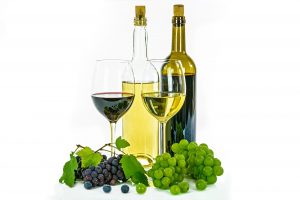 4. Dry wine vs. sweet wine in cigar pairings
Dry wine is very delicious and it has an interesting aroma. The main trait about this of the wine is the dryness that is left in your mouth. Dry wine works very well with cigars and the best ones are medium, medium to full-bodied or even full-bodied cigars. In order to fully enjoy the aroma of this type of wine, you should be careful to keep your palate hydrated. The best way to do so is by drinking water from time to time while you enjoy this delicious pair.
The sweet wine is also a delicious choice and it can work perfectly in pairings. Being on the sweeter and more delicate side, white wine is best paired with light or light to medium-bodied cigars. In general, wine and cigar combinations are power and taste pairing and you should always be careful to choose drinks and cigars that are in the same league.
5. Young wine vs. aged wine in cigar pairings
The young wine is a type of drink that has been aged for a very short time. This type of wine has a very light and delicate taste and a crisp finish at the same time. This particular type of wine, no matter if we are talking about red, white, dry or sweet, should be paired with younger cigars that hadn't had time to mature.
Aged wines are stronger in terms of taste and full of personality. This is because they had the time to get their aromas concentrated. These wines have bursts of flavor and they should be paired with aged cigars or with those types of cigars that also feature the same aromas and personality. Wine and cigar pairing is definitely delicious and one of the ultimate choices for any smoker.